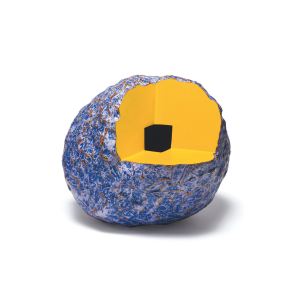 "Seriousness is the only refuge of the shallow." Oscar Wilde's words come to mind in the presence of sculptures by the late West Coast ceramicist Ken Price, who died in February 2012, while this major retrospective was being planned. Price made modestly scaled sculptures that, for all their meticulous construction, have a pleasurably ludic sensibility. Over the course of a 50-year career, he wove into his clever pieces references to landscape, architecture and the human body; his art is at once familiar and strange.
Price studied with Peter Voulkos and, like Voulkos, is often credited with redeeming ceramics from its status as mere craft. The Met exhibition—curated by Stephanie Barron, a senior curator at the Los Angeles County Museum of Art, where it debuted last fall (Met curator Marla Prather has overseen it here)—is presented in reverse chronological order and makes a point about Price's artistic lineage in a subtle way. Past his recent bloblike sculptures, with their iridescent surfaces built up from layers and layers of color, past his slick, electric-hued, angular, geometric work from the 1980s, past his slab cups from the 1970s, reminiscent of the cliffs at Pacific Palisades where he grew up, past his surrealistic mound- and egg-like sculptures from the 1950s and '60s, you are spat out into a permanent collection gallery anchored by two iconic sculptures by Constantin Brancusi, one of Price's Modernist progenitors.
Part of the pleasure of looking at Price's work is in its myriad associations. Here are sculptures evocative of everything from the limbs of contortionists to African boli figures and from dense, outsized wads of chewing gum to a horror movie alien's brain. Arctic (1998) is a cartoon ghost with a gaping mouth, complete with cherry red uvula. But Price was as interested in the empty space at the center of objects—the nothing at the heart of his somethings—as he was in the objects themselves. And he was preternaturally attuned to the operations of the eye; his trompe l'oeil effects are masterful. Big Load (1988) sports a cratered purple surface accented with orange, out of which a slice has been cut, revealing a thick stratum of bright yellow, beyond which, like a fruit's pit, is a black, cube-shaped hole. Or is it a cube? The only way to really determine this would be to stick your finger into the piece, and one gets the sense that this is the reaction Price was after. His art calls out to be handled.
It also resists interpretation, preferring to revel in ambiguities. If a key to Price is what you're after, however, you could do worse than to go to the Drawing Center, which, until the end of this week, is home to a career-spanning exhibition of his drawings, organized by Douglas Dreishpoon, the chief curator of Buffalo's Albright-Knox Art Gallery, which hosts the show next. Price, who self-identified as an artist early in his life, drew before he made sculptures (and before he surfed and played jazz trumpet). In his drawings, you can see him working through the problems in his three-dimensional work, and it is in his drawings that he reveals, quite explicitly, the extent to which his sculptures are related to landscape, particularly the dramatic geography in and around Taos, N.M., where he lived and worked for the last part of his life. Not all of the drawings are top-notch; the ones that fall below par drift into the territory of bad album art. But many of the winners have an appealing goofiness, as when he draws a naked woman sitting cross-legged between what appear to be two of his sculptures, pointing out the way his sculptures echo bent limbs.
At the Met, it helps that Price is shown to his best advantage, courtesy architect Frank Gehry who did the exhibition design. Long a fan of Price's work, Mr. Gehry has done wonders with a set of rooms located in something of a backwater of the museum, behind some painting galleries. One particularly clever touch is the floor, a polished concrete that looks slightly mottled. It casually echoes the surfaces of some Price sculptures.
Oft-noted in discussions of Price's abstract works is their pronounced sensuality, the way in which, especially in his late, biomorphic (better by far to call them blobular) pieces, certain anatomical features are implied by tumescent and pendulous shapes and holes that read as orifices. One might savor the coincidence that the Price exhibition opened on the very same mid-June night as Paul McCarthy's manic "WS" extravaganza a dozen blocks southeast, at the Armory. A warm evening's stroll transported this reviewer from playful eroticism to out-and-out pornography. The sexier show, it's perhaps worth noting, is the one that isn't rated NC-17. The comparison is perhaps somewhat unfair: besides being from Los Angeles and working for the most part in three dimensions, the two artists have little in common. But in this instance, the contrast throws into stark relief the extent to which Price habitually left much in his work to the viewer's imagination, the viewer's imagination being something that artists, with their zeal for big effects, seem increasingly, and very unfortunately, to distrust.
But the greatest pleasure of the Met's Price exhibition—and it's a related one—is in its demonstrating the resonance of the small; it's a welcome reminder of the power of the modestly sized in our age of mega art in mega galleries. Price, who insisted that work on a small scale was, in fact, suggestive of the monumental, did make some large artworks later in his life—a sizable blob filled a small room of Matthew Marks gallery about 10 years ago—but they are outliers in a career devoted to pieces you can hold in two hands. "Small objects are about intimate experience," Price says in a wall label at the Met. "And they tend to subvert detached analytical viewing by drawing you in closer to the physical reality of the piece." In stark contrast with, say, the ethereal, atrium-filling piece by James Turrell (another West Coaster) a few blocks further north at the Guggenheim, Price's work invites viewers to approach each thing and contemplate its thingness. Samuel Johnson, who refuted George Berkeley's idealism by kicking a stone, would have approved.
(The Met, through Sept. 22, 2013, and the Drawing Center, through Aug. 18, 2013)
Correction: August 19, 2013: An earlier version of this article  incorrectly referred to Marla Prather as Met consultant. Ms. Prather, who has overseen the exhibition at the Met, is a curator at the museum.
Update, Aug. 15: Because of a technical error, the final print version of this piece was not published online. The text has since been updated. We regret the error.