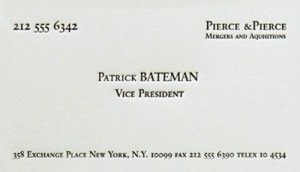 There go the business cards!
This year, thousands of real estate agents and brokers in New York lost their fancy titles when the New York Department of State cracked down on the use of corporate honorifics (such as "managing director" and "senior vice president") for agents who do not perform any actual corporate duties.
As it turns out, those empty, pat-on-the-back titles, typically rewarded to long-term or high-performing brokers, are actually illegal—and could cost the brokers $1,000 a pop in fines.
Real estate brokers and agents are technically not considered staff employees but are rather independent contractors who split their commissions with the company, The New York Times reported today. Therefore, the corporate-sounding nomenclature was deemed "misleading" by the Department of State. In April, when the DoS issued a letter clarifying the (il)legality of such titles, The Observer noted that in fact, most brokers cannot actually hold such titles, because they are expressly prohibited from holding corporate management positions.
Although these regulations have been around for 50 years or so, real estate firms tended to get away with flouting them. According to The Times, "agents and brokers at various real estate firms were awarded corporate titles over the years for reaching sales benchmarks, or for spending a certain number of years with the company — though at a few firms, one could become a vice president just by walking in the door."
"Everybody started to try and outdo each other and it became Senior Executive Chief Whatever Bottlewasher," Kirk Henckels, Stribling vice chairman, told The New York Times. "I can understand needing to clarify that for the public good."
Here are a few other inflated titles the State of New York has officially obliterated:
Senior Housing Czar
Supreme Chief of Real Estate Operations
Queen of Real Estate (sorry, Dolly Lenz!)
Co-op Chancellor
Grand Poobah of Rentals
Duke of the Lower East Side