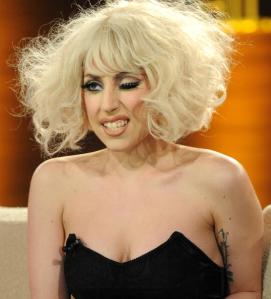 For Little Monsters, this might come as bad news; for everyone else who's still trying to decipher the meaningless ARTPOP garble that Lady Gaga churned out three weeks ago, this'll probably come as a relief. Gaga has admitted the ARTPOP app is just gonna be some lame-sounding "interactive jewel case."
It's a far cry from her lofty, pseudo-intellectual Facebook spewings of July 12, wherein the pop-star/martian (or one of her handlers) claimed, "The app itself is a musical and visual engineering system that combines music, art, fashion, and technology with a new interactive worldwide community—'the auras'. Altering the human experience with social media, we bring ARTculture into POP in a reverse Warholian expedition."
Now, in the saddest anti-climax since Kimye gave their baby a normal-ish name, Gaga has emerged—most likely clad in meat—from her top-secret reverse Warholian technological workshop to declare that the ARTPOP will probably be nothing more than a glorified, touch-screen Polly Pocket.
Here's what she tweeted Wednesday morning:
Cool.
So how did the app—which was meant to "[Explore] Gaga's existence as a cultural interface"—turn into the most unexciting thing ever? We're guessing that even Gaga herself couldn't maintain a grip on the increasingly incomprehensible bullshit she's been putting forth in anticipation for ARTPOP's November 11 release.
We suggest she surround herself with fewer yes-people, and more "no, you probably shouldn't walk around with no pants on or announce you want to die onstage" people.