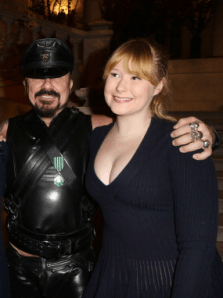 Kinky retail architect Peter Marino is no square, but his daughter's a different story: Isabelle Trapnell Marino just picked up a two-bedroom condo at the sleekly rectangular Morris Adjmi-designed 250 Bowery.
Scooping up the apartment for more than $2.2 million, we're guessing that the 21-year-old Ms. Trapnell Marino—whose father teared up in an interview when he mentioned that she gave up her art history major for anthropology—got a little help from mom and dad with the purchase.
The building sits on the old Chinatown restaurant supply strip, whose sheer unpleasantness valiantly staved off gentrification for decades. But now the Bowery, still without anything approaching an amenity (or tree), is finally succumbing, and at warp speed. It fast-forwarded through the early waves of gentrification, and now Pritzkers are popping up alongside its pots and pans.
As the New York Daily News' late, great Jason Sheftell put it, "The drunks are still there—only now they drive Bentleys, wear Prada and date supermodels."
The retail at the bottom of the building is sadly empty after Anthropologie, which had already put up its signage, pulled out from the space, apparently displeased with how it turned out. Developers Zach Vella and Justin Ehrlich, who sold the sponsor unit to Ms. Trapnell Marino, should have gone picked her dad, the go-to designer for flagship retail for luxury brands from Chanel to Vuitton, to do the storefront.
Inside the apartment, we find the requisite broker babble, with Douglas Elliman's Fredrik Eklund and John Gomes in formidable form: you can expect "wide-plank white oak floors and imported Italian white matte lacquer Lualdi pivot-hinge doors with Lualdi polished chrome level handles," along with undisclosed but intriguing "advanced technologies."
But the real draw is the high-design façade. Normally the downtown architect has to moderate his modernist tendencies to appease the Landmarks Preservation Commission, but rising star Morris Adjmi let loose all his straight-lined, 90-degree angled fury on the starchitecture-studded strip. The rooms are framed by almost voyeuristically rectangular floor-to-ceiling windows.
With its "direct-vent Broan hood" and "muscular, oversized" casement windows, per the listing, we can't help but wonder if the condo was picked out by Ms. Trapnell Marino's leather codpiece-wearing father.