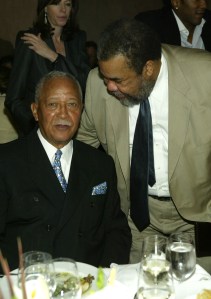 Legendary political consultant and former Deputy Mayor Bill Lynch passed away this afternoon Columbia Presbyterian hospital from complications from kidney disease, according to a statement from his family. He was 72.
The sudden passing sent shock waves through the city's political world, with friends and former colleagues expressing shock and disbelief at the news.
A political pioneer in the African-American community, Mr. Lynch was widely credited as the architect of David Dinkins's historic election as the city's first Africa-American mayor. He spent his decades-long career shepherded many of the city and nation's most prominent leaders, from Congressman Charlie Rangel and former Govs. Mario Cuomo and David Paterson, to Secretary of State John Kerry and his predecessor, Hillary Clinton.
And he showed no signs of stopping; Mr. Lynch had been managing the mayor campaign of current City Comptroller John Liu.
"Bill Lynch was a giant in New York City politics, and – on a personal level – a mentor and a friend to me for the last 25 years," said Public Advocate and mayoral candidate Bill de Blasio, who served as Mr. Lynch's executive assistant when he served in the Dinkins administration. "He inspired two generations of activists and public servants to make a difference in this city. He will be sorely missed by many, including Chirlane and myself. Our hearts go out to his entire family."
Fellow mayoral hopeful Sal Albanese described Mr. Lynch as "one of the greatest political strategists of a generation."
Mr. Liu's campaign has cancelled all of his remaining public events "until further notice," and issued a brief statement celebrating Mr. Lynch as a "true friend and mentor to generations of countless mentors, leaders, trailblazers, organizers and activists."
"Words cannot express the deep grief felt throughout New York, including the Team Liu Family of which Uncle Bill is the patriarch. I would not be where nor who I am today without Bill Lynch," he said.