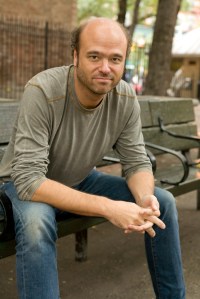 Funnyman Scott Adsit is probably best known for his role as perennial sad sack Pete Hornberger on the hit NBC sitcom 30 Rock. A blundering scriptwriter who claims to have been the original bassist for the 80s band Loverboy, Pete is prone to the occasional racist remark and can never seem to satisfy his wife sexually. (To wit, in one episode he brags to a fellow writer: "Last night I was having sex with Paula, and neither of us was wearing a Walkman.")
Mr. Adsit told The Observer that while he certainly misses the 30 Rock team, he's moving on. "I'm happy to say that the things that happen to him" – the mild alcoholism, the sexual dysfunction, the ill-advised attempt at recording a soft-rock ballad, one presumes – "pop up in my life very rarely," he said. "We don't have very much in common, apart from the way we look."
Indeed, Mr. Adsit is quite unlike schlemiel Pete Hornberger and his life is actually kind of awesome right now. This year he will be appearing in two new films, A Case of You starring Peter Dinklage, Evan Rachel Wood and Vince Vaughn, and Growing Up and Other Lies with Adam Brody.
"Now that [30 Rock] is in reruns, I think I'm becoming more and more famous in that, 'Oh, there's that guy' kind of way," he said.
Luckily, as is common in the small, small world of comedy, he's never far from his 30 Rock co-stars. Come October, he'll be back to performing regularly in New York as part of a new improv series called Stolen House, alongside 30 Rock's John Lutz and fellow Second City comedians T.J. Jagodowski, David Pasquesi, Robert Dassie and Stephnie Weir.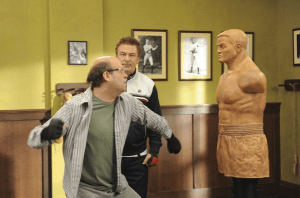 "The six of us will be improvising a play every night in another play's space, and use their sets to inspire whatever we come up with that night," he said. The show will be housed in a string of Off-Broadway theatres.
"We'll do a run of like four or five nights in a theater that is already being used by another theater company. After that, we'll go to a different theater and do the same thing again. An audience can come twice and never see the same thing."
Although 30 Rock might be Mr. Adsit's most recognizable comedy role to date, he is also an alumnus of Second City, Chicago's venerable improv comedy institution. After earning his chops as a sketch and ensemble performer, he migrated to the Upright Citizens Brigade in New York, known for its revolving roster of veteran comedians including Amy Poehler, Aziz Ansari, Ed Helms and Donald Glover.
For Mr. Adsit, one of the pleasures of being a 30 Rock cast member was witnessing the resurgence of strong female comedians at the helm of major comedic ventures.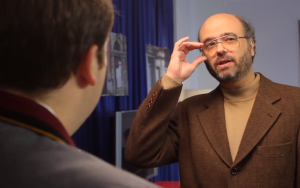 "I've known Tina [Fey] since 1992, and she was not always the leader," he said. "She was always the smartest one in the room, but she was also quiet and picked her battles and was an ensemble player. She bided her time and waited for her moment, and she took it when she was given it and boy, did she run with it."
Last month, Mr. Adsit performed with John Lutz (the lame duck known simply as 'Lutz' on 30 Rock) at the Just For Laughs Festival in Montreal. As "Adsit & Lutz," the pair performed a series of improvised sketches, weaving together scenes and narratives into an hour-long mini-play.
"Pete [Hornberger] is a lovable loser," Mr. Adsit admitted, "but it has not been hard letting him go."