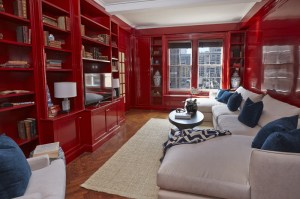 Normally when you're the scion of multi-billion-dollar global fashion enterprise like Ralph Lauren, you buy your luxury Manhattan real estate real estate under an LLC, so that the prying eyes of The Observer can't write it up. But then again, if you've got a WASP-y image to uphold (and let's face it, who needs that more than someone whose father was born with the name Ralph Lifshitz?), an Upper East Side co-op is the only way to go—and they don't let you hide behind a shell corp.
Thus we came across Dylan Lauren and husband (as of 2011) Paul Arrouet's names in city property records late yesterday afternoon, proud new owners of a 10th-floor co-op at 125 East 72nd Street.
"Grand classic 10″—that's a thing?—boasts the listing. "Off Park Avenue," it adds—which appears to be broker babble for "on Lexington." (We like to think of our Brooklyn abode as "off Manhattan.")
Fashion heiress Dylan Lauren, who owns the eponymous Upper East Side candy shop (sorry, "bar"—self-anointed as the largest in the world) for the sorts of people who don't eat candy, and Mr. Arrouet, a hedge funder, picked up the south-facing spread ("ten into nine room residence," the listing later hedges) for $8.85 million. They bought it from the inscrutably-named Sanjay Patel (if we had to hazard a guess, we'd say finance) and his wife Leslie.
Aside from the bold-faced name involved, the three-bedroom, 4.5-bath apartment is just as boring as you'd expect from a tony Upper East Side co-op. "It was a beautiful apartment," Brown Harris Stevens's Cathy Franklin (who shared the listing with Alexis Bodenheimer) told The Observer. "Beautiful renovation, incredible sunlight, all original details." The apartment was also—surprise!—well-proportioned.
The unit sold for exactly its asking price, but Ms. Franklin declined to say whether there were any other bidders. Although we can't be totally sure what she said after that, since we fell asleep.