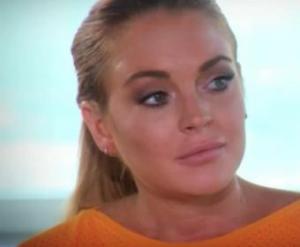 Viewers may have been disappointed after tuning into Oprah's Next Chapter with Lindsay Lohan last night; the starlet turned media train wreck stuck to the repentant rehab-er script and forwent any bombshells about her personal life. Nor did Oprah, who gave Ms. Lohan $2 million in July for the exclusive interview and an eight-part docu-series, press The Canyons actress on any subject, making for critically boring programming and further reinforcing everyone's belief that the moment Lohan appears on camera, a production becomes unwatchable. Not even Oprah, apparently, is immune to the curse.
However, there was something to be salvaged from the otherwise tame interview with the 27-year-old:

[protected-iframe id="0596d7575e4bc10cb63a6ab4fb4528de-35584880-35147716″ info="http://www.oprah.com/common/omplayer_embed.html?article_id=44889″ width="640″ height="360″ frameborder="0″ scrolling="no"]
Though she claimed her drug of choice was alcohol–also, as Oprah, hinted, maybe chaos?–and admitted that she's done cocaine "maybe 10-15 times," Ms. Lohan also discussed up her love affair with Adderall, a stimulant that in the U.S. produced 84 tons of in 2010, which she told Oprah she was giving up. The pill's addictive qualities have been brought to light in the media before–including at this very publication–but putting a recognizable face to rampant use/abuse has been difficult, especially since its so often prescribed for Attention Deficit Disorder. (About 34.5 percent of of college students take the drug, according to a 2012 study, while 53 percent of people in the country have gotten some of the medication from a friend.)
Ms. Lohan's frequent problems with the drug have been well-chronicled–when she was refused her meds at Betty Ford, she threatened to leave–and her erratic behavior is often chalked up to the pills, rather than cocaine, having been prescribed it since she was 15-years-old. Adderall is frequently used as an appetite supressant, making it an obvious choice for women in Hollywood. And since all you need is a doctor's prescription, it's easier to obtain than the white powder.
Now that Lohan has been off the speed since June (according to her) and is looking like she's finally put on some weight, will she become the first big name to speak out about the dangers of everyone's favorite study drug?