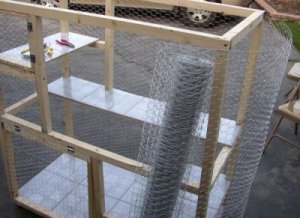 There's no doubt that the Sunbright Hotel in Chinatown is a dump. Billed as a single room occupancy, the lodgings fall short in the "room" department, packing tenants into 5-by-7-foot metal cubicles topped by a chickenwire enclosure, as reported by the Post, which recently exposed the horrible conditions at the building.
"Roaches, bedbugs, fleas and other vermin infest the building. Hot hallways reek of rotting trash, sweat and urine," wrote the Post, describing the pest-plagued, overcrowded residence, where more than 100 men share the same communal bathroom. And, after leaving its readers horrified, the tabloid scored something of a coup: mayoral candidate Bill Thompson visited and expressed his shock and outrage.
"In New York City, in 2013, it is absolutely disgraceful. The fact that the city has done nothing is even more disgraceful than the open violations," Mr. Thompson told the Post. "We treat our prisoners better than this! Prisoners have more space than this!"
Which is all true. No one should have to live in a 5×7 chickenwire cage with bedbugs and roaches. Nor should they have to live in any of the other makeshift arrangements that have been the source of one exposé after another—homeless people living in a Soho storage facility, a Greenpoint flophouse where the down-and-out rent deplorable rooms for less than $300 a month. But the outrage generated by such stories misses the mark. The landlords in such situations and the Department of Buildings are, without question, partially to blame. However, all these stories, and the reactions, tend to ignore the core problem: people sleep in $10 a night chickenwire cages and storage units because they can't afford other living arrangements.
Illegal dwellings are illegal for good reason:  health, safety and fire codes exist to protect the public, even if some may be outdated or outmoded. And landlords who rent spaces out illegally enjoy an unfair business advantage in that they do not have to adhere to any of the standards of their legal peers (or report income). But they exist, and will likely continue to exist far into the future, because they provide housing for a population that the market is not serving (and has no interest in serving). There is a severe housing shortage in New York City, particularly when it comes to affordable housing. When studios on the border of Bushwick and Bed-Stuy are renting for $1,600 a month, it's not surprising that there are many people who have no other option but to seek alternative arrangements.
The Department of Buildings must, of course, stop living arrangements that are dangerous for the inhabitants, but until the city can make significant strides in solving its housing problem, chickenwire cage rooms and people sleeping in storage units and decrepit flophouses will continue to exist. In the meantime, we should turn our attention to changing the system where hundreds of people flock to sub-par living situations because they don't have any other choice.