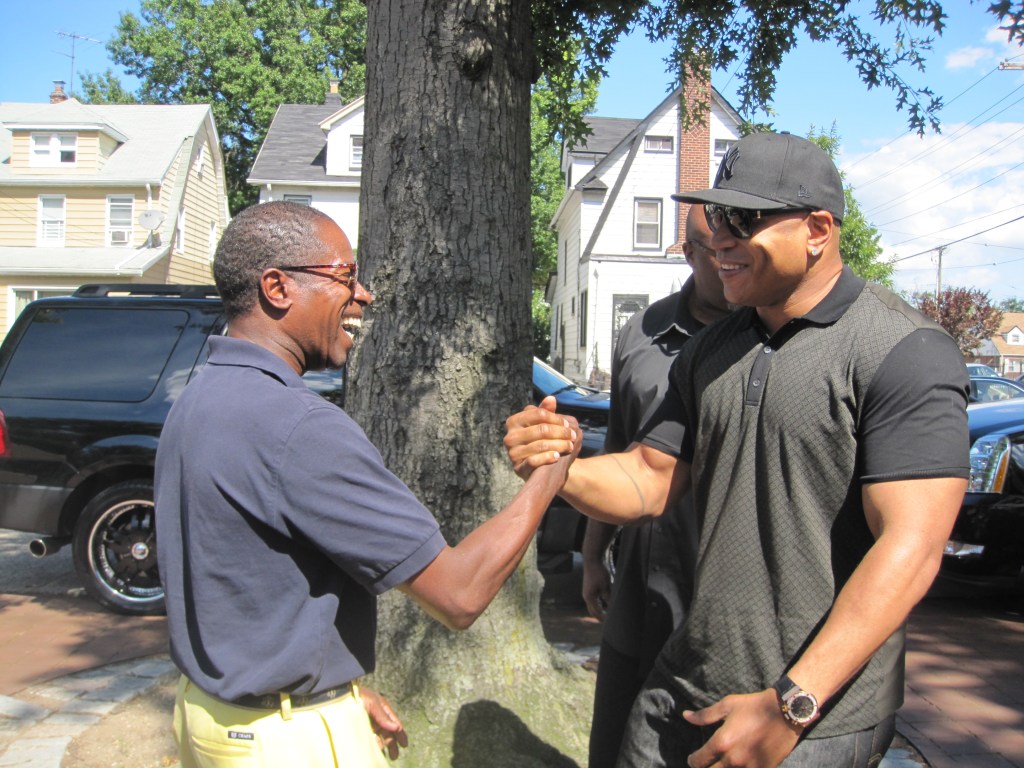 State Senator Malcolm Smith may be facing federal corruption charges, but LL Cool J is cool with it.
The '90s heartthrob, rapper and star of NCIS: Los Angeles returned to his childhood neighborhood in southeast Queens yesterday to co-host a basketball tournament with the indicted pol, who recently pleaded not-guilty to federal corruption charges for allegedly orchestrating an elaborate scheme to get himself elected mayor.
"The beauty about the American system is that you're innocent 'til proven guilty," the rapper told Politicker as he greeted excited fans at the annual basketball event when asked about the scandal.
Mr. Smith is accused of orchestrating an implausible plot to bribe his way onto the Republican ballot for mayor along with City Councilman Dan Halloran, former Queens County Republican vice chair Vincent Tabone and former Bronx G.O.P. chair Jay Savino. But despite the hanging questions, the pair appeared extremely close, greeting each other like long-lost brothers after LL Cool J, born James Todd Smith, pulled up to a local park in his black SUV. "That's why they love you!" the two sang at each other as they hugged, laughed and reminisced.
Later, LL Cool J told reporters that, while he was familiar with the charges against Mr. Smith, he didn't plan on worrying about them until after the case had worked its way through court.
"It definitely wouldn't have an effect on our relationship," he said. "I don't walk away from my friends just because they find themselves in tight situations. I don't think that that's how friends behave."
He pointed to the work the two had done to organize this year's ninth annual Jump and Ball Tournament. "You know, Malcolm has helped me build this thing to what it is today," he said. "This is something that he helped me knock down the doors of bureaucracy and make this thing happen."
As for the charges, he said, "It is what it is," adding, "Anything can be written down, and anything could be read, and there's a difference between truth and facts."
"That's something that he'll deal with, and I'm sure things will end up the way they're supposed to. But in the mean time, we're gonna keep serving the community and having fun doing it," he said.
Politicker also asked LL Cool J his thoughts on the city's mayor's race. Even though he endorsed Republican George Pataki for governor in 2002 and offered advice to President Barack Obama, the rapper, who recently said that he's a registered independent, admitted that he'd been spending most of his time in Los Angeles and hadn't been following the race.
"You know, for me, it's really, I'm about the community right now," he said. "I'm not in a deep political mindset. It's more about just what's going to be best for the community, you know, and on a social level, what's best for all of us as a nation. And I guess obviously politics feeds into that, but i haven't been paying attention."
For his part, Mr. Smith, dressed in yellow shorts and matching shoes, raved about LL Cool J's presence at the annual month-long event.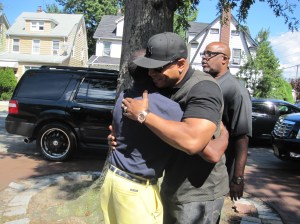 "It means a tremendous amount to the community," the Democratic state senator told Politicker in an interview. "He's an NCIS star, he's a rap artist. His coming back to the community shows the young people that they can make it. … This tells the community that, you know, nobody forgot about you."
"Oh, I love it. I love every minute of it. It's tremendous!" he further exclaimed of the opportunity to hang out with the superstar.
Mr. Smith was less interested, however, in discussing the pending charges, which he claimed he rarely faces questions about anymore.
"Actually, most of the stuff I get is people are saying they're very supportive. They know who I am, they believe in me, and that's exciting," he said, adding, "I can only say that we're still going through our situation. But as far as the community, [it] looks like they're excited about what's goin' on here today."
During a press conference, the love fest between the men continued as Mr. Smith praised LL Cool J for his commitment to the event.
"There are a lot of artists who come out of southeast Queens," he said. "But I can tell you he's the only one I know that has stepped up and said I want to give something back and has stuck with it now for nine years."