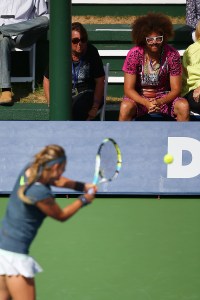 With his mushrooming Afro and ever-colorful attire, Stefan "Redfoo" Gordy has become a slightly quirky fixture of the tennis circuit over the past year. These days, no Victoria Azarenka match is complete without the cameras regularly panning to the player's box and picking out the LMFAO frontman. And while the rapper-singer-deejay may have made his name with hits like "Party Rock Anthem" and "Sexy and I Know It," tennis is his passion, and he takes his role as his girlfriend's cheerleader in chief extremely seriously.
"I'm just really focused on being, like, the best cheerleader I can be," he told the Transom. "Do I get nervous? No way, man. I'm just constantly thinking about what does she need to do to win and what can I do?" This usually involves yelling at choice moments, he confided. "I don't even know if she hears it, but I say it pretty loud."
Although the couple has been dating since the Australian Open—and first crossed paths 12 months ago in New York—Redfoo and Ms. Azarenka have kept their relationship fairly low-key. Only recently has the Belarusian tennis star referred to the party rocker as her boyfriend to the media.
"We always joke about this story. She was a fan and wanted to meet me, and I only knew a little bit about her," Redfoo revealed. "Ken Solomon from the Tennis Channel hooked us up. She said, 'Hey, why don't you come to my press conference?' And I went to that. It's on YouTube. You can see it. It was crazy, it was fun, and we just became friends. We were friends for a long time, and then, err, she seduced me!"
It was never a standard seduction process, though. The couple bonded over Redfoo's idea to remix Ms. Azarenka's often oppressively loud on-court grunting into a new single, "Heart of a Champion." It takes a creative mind to derive musical inspiration from the strange mewing sounds Ms. Azarenka makes when she hits the ball, but her sweetheart insists it all happened pretty organically.
"I was making some stuff, I needed some new sounds, and I had an idea to put her grunt in there. Her grunt is actually perfectly in the key of F," he said, humming an F to prove it.
So what did the former No. 1 player make of the song she inspired? According to Redfoo, "She liked it!"
Still, the musician's ambitions don't lie solely in the realm of the recording studio. He used to play tennis regularly as a junior and once dreamed of turning pro, although that was before breaking his wrist at the age of 16.
"I lost my focus and got into music," he said. "The music kinda took over. But now I'm playing a lot of tennis, and I love it. I love to be competitive."
His game still requires a fair bit of work, judging by his ill-fated attempt to win a place in the U.S. Open qualifying tournament this summer, but he said he intends to enter a couple of low-level events on the professional circuit next year, having benefitted from the occasional practice session with his girlfriend.
"I tried to get her to be my coach, but she doesn't want to," he said. Why not, we wondered? "She doesn't want to lose her voice from yelling at me."