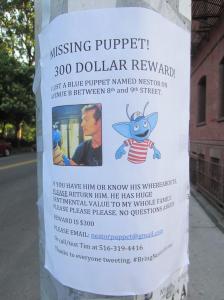 Looking to earn an extra few bucks? You could do worse than head for the East Village in search of a blue alien – or Nestor, as he's known to friends.
A children's arts performer is offering a $300 reward for the return of his sidekick, who has been M.I.A. since last week.
Tim Kubart, 29, was initially willing to fork out $100, but tripled the reward in a bid to grow the search party. Mr. Kubart thinks he accidentally dropped Nestor on Avenue B between East 8th and 9th streets at about 5 p.m. on August 6.
The puppet performed with Mr. Kubart and his band, Tim and the Space Cadets. According to their website, they "play songs about the important things in life: pizza parties, snow days, and summer vacations." Finally, some lyrics The Observer can relate to.
Mr. Kubart told DNAinfo about the bond he and Nestor share: "I do feel like I have a relationship with the puppet because I am the one controlling him … I have spoken with him so many times and I feel like he has a personality and now that is gone."
Maybe he should contact Jason Segel — he would definitely know what to do.
The character of Nestor has been around for a decade, but this particular puppet was just a year old. He was made by Sesame Street puppeteer Frankie Cordero – at a cost of $1,500. Nestor was last seen wearing a striped T-shirt and baseball cap. Approach with caution if you do spot him, however, he's "a bit hyperactive."
Mr. Kubart lives in Greenpoint, but was house-sitting for a friend in the East Village when the puppet disappeared. He said the reward money would be given to anyone who returns Nestor, "no questions asked."
Some concerned citizens have highlighted the search on Twitter, with the hashtag #bringnestorhome. Those with any information should email nestorpuppet@gmail.com.
In case no one comes forward, Mr. Kubart is already saving for a new Nestor. Get searching, East Villagers.
#BringNestorHome pic.twitter.com/C4mcBaaUkY

— evgrieve (@evgrieve) August 11, 2013