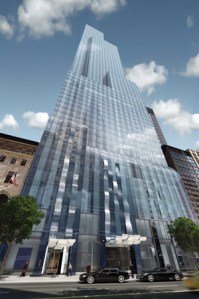 Sure, New York's landscape is being remade by luxury condo towers, its streets mobbed by the Goyard and Louis Vuitton-toting global elite, the lower and middle classes pushed to the end of outer-borough subway lines. But is the transformation happening fast enough?
Apparently not. The city and state, eager to speed the ascent of the moneyed classes and Manhattan's ongoing metamorphosis from a borough occupied by an economically-diverse population to one often unoccupied by the wealthy globe-trotters who view high-end real estate as an investment vehicle, are doing all that they can to ease the path of One57. The ultra-luxury tower, whose top-floor units have all but been spoken for by billionaires or investment groups led by billionaires willing and able to pay upwards of $90 million, has just received a plum work permit from the city, allowing around-the-clock seven-day-a-week construction work, according to DNAinfo.
Apparently, the Department of Buildings felt that Extell was entitled to a little extra leeway when it came to construction schedules. Whereas construction work is often limited to something resembling regular waking hours, sparing nearby residents from being constantly disturbed by the din of sawing, hammering, exterior construction elevators and the like, One57 merited an exception.
Just like it has any number of times this past year. As DNAinfo reports, though the DOB did not return requests for comment on its extremely permissive stance toward Extell, city records show that more than 300 construction variances have been issued over the past year allowing after-hours, and sometimes 24-hour-a-day, work.
"The work goes on 24/7," Joel Maxman, who lives in the building across from the construction site, told the news website. Mr. Maxman is among the One57's many neighbors who do not appreciate the DOB's permit laxity, especially after having to evacuate not once, but twice, this past year.
After its crane broke during Hurricane Sandy, forcing the six-day evacuation of the block's residents, and the intervention of numerous city agencies, this spring the DOB yet again mandated the evacuation of residents in two nearby buildings. Rather than making One57 use a slower, costlier method to rebuild the crane—as is used at many other sites in the city—the DOB allowed it to swing a boom over the buildings, which meant their residents had to leave for the night.
God forbid that a delayed completion date might force visiting billionaires to stay at the Pierre or the Carlyle rather in their brand new sprawling condos!
Nor are One57's privileges limited to what appears to be the endlessly understanding DOB. The building was one of five projects granted significant tax breaks by the state legislature this year, a bizarre favor given that the luxury tower was already well under-construction at the time, and if there is one thing that the city doesn't need to stimulate, it's luxury condo towers in Midtown. The deal was so sweet that it even sparked an investigation by the state's corruption commission, which is now looking into whether any of the five  real estate developer's sizable campaign contributions may have had something to do with their being singled out to receive such extraordinary breaks.
Given that luxury condo towers in the vicinity of Central Park are what every developer in the world wants to build right now, why, exactly, are the city and state falling all over themselves to give a condo tower for some of the world's wealthiest residents every advantage?
When the DOB issued the boom-swinging permit, they spoke of its being in everyone's interest to see One57 completed as soon as possible, but isn't that the case with any construction project? No one likes to live next to a construction site, but there are limits to how and when work can be done to make it tolerable—otherwise, why create limits at all? It's hard not to wonder if the confluence of money and power creates different rules for some developers, just like it increasingly seems to create different rules for residents. Like those at Extell's at 40 Riverside South development, where renters in the building's "affordable" units will be required to use "a poor door" on the opposite side of the luxury building's main entrance.