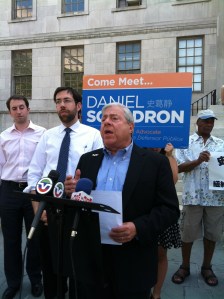 Outside Borough Hall, not far from a stickball game between the candidates for mayor and public advocate, State Senator Daniel Squadron received a pitch of a different kind.
Brooklyn Borough President Marty Markowitz, Brooklyn's outgoing cheerleader-in-chief, ecstatically endorsed the public advocate candidate, touting his record as state senator as well as his endorsement from Senator Chuck Schumer.
"When he came up to Albany, he added a breath of fresh air," Mr. Markowitz said, referring to Mr. Squadron's efforts on gun control in particular. "He took the charge in Albany, as we know, to pass legislation banning military-style assault weapons. And Senator Schumer has very aggressively shared that with the rest of New York City."
A recent Squadron campaign advertisement also featured Mr. Schumer prominently, drawing considerable flack from one of Mr. Squadron's opponents, Councilwoman Tish James, who has criticized Mr. Squadron's record.
Mr. Squadron is facing off in a heated contest against Ms. James, former Deputy Public Advocate Reshma Saujani, educator Cathy Guerrero and civilian police employee Sidique Wai.
In addition to Mr. Markowitz, Mr. Squadron has received the coveted endorsement of The New York Times and is leading the fund-raising race. But he remains behind in the polls, with only 12 percent of the vote, according to a recent Wall Street Journal poll. Still, more than 50 percent of likely Democratic voters remain undecided–meaning it's likely still anyone's race.
"We've still got fourteen days to go," said Mr. Squadron. "Fourteen days is a marathon in politics and we're feeling great about the momentum we have."
"I'll give you three words," firebrand Mr. Markowitz leapt in. "Substance, not sizzle. Ok?"