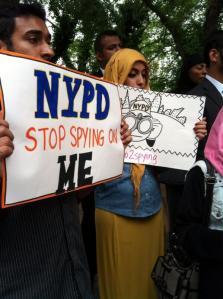 Following new revelations about the NYPD's surveillance of Muslim New Yorkers–including allegations that entire mosques were deemed terrorist organizations–the reaction in some quarters of city politics was swift.
Comptroller John Liu, a candidate for mayor, was particularly incensed by today's Associated Press report on the issue, calling an emergency press conference near his office.
"I am truly outraged at the reports that the NYPD labeled entire mosques as terrorist organizations and put them under surveillance," he declared. "It's un-American. It's unconscionable."
In response, Mr. Liu announced an impending audit by his office of the Domain Awareness System, the intricate web of 3,000 security cameras, license plate readers and radiation detectors employed by the NYPD's intelligence division.
"We're going to determine if this technology, which allows the police to watch almost every New Yorker's move, is safeguarded from abuse or misuse by those entrusted to control it," Mr. Liu said.
But even though Mr. Liu is the Gracie Mansion hopeful who has most sharply condemned the NYPD's surveillance policies, some nearby activists protesting outside of the police department's headquarters didn't feel he went far enough.
"I call on Comptroller Liu to expand his audit to include the entire intelligence division, not just the Domain Awareness system he's currently audited," said Linda Sarsour, the executive director of the Arab American Association of New York, a secular service organization that the NYPD reportedly infiltrated with informants. "I want mayoral candidates to come out and say, 'Enough is enough.'"
She, along with fellow advocates including Dr. Ahmad Jaber, president of the Arab American Association of New York, who resigned from his position on an NYPD advisory council today, urged action from the Department of Justice, Mr. Liu and other mayoral candidates.
As for the other candidates, reactions have been trickling in.
A spokesman for Public Advocate Bill de Blasio–who, like Council Speaker Christine Quinn and former Congressman Anthony Weiner, has been reluctant to criticize the NYPD surveillance program in the past–pointed to a tweet sent out from the campaign's account: "Deeply troubled NYPD has labelled entire mosques & Muslim orgs terror groups with seemingly no leads. Security AND liberty make us strong."
Ms. Quinn released a lengthier statement where she also expressed serious concerns with the program and touted the City Council's recent bill installing an NYPD inspector general. "Any and all monitoring in New York needs to be done in a constitutionally sound manner that doesn't violate law abiding citizen's rights and does not target any one group, simply because of who they are. If what the Associated Press is reporting turns out to be true, it raises serious questions that must be addressed," she said.
Spokespersons for Mr. Weiner and former Comptroller Bill Thompson, two of the other major Democratic candidates in the race, did not immediately respond to requests for comment, but former Councilman Sal Albanese, who is polling in the back of the pack, was more than happy to respond with a jab at his rivals.
"If the most recent reports are true, they're obviously deeply troubling," he said. "But we can't look solely at the NYPD or Commissioner Kelly. My message to the elected officials complaining about the NYPD or any city agency is this: go do your jobs!"
"Instead of running a proactive government, they've opted to be reactive," Mr. Albanese continued. "All New Yorkers deserve better."