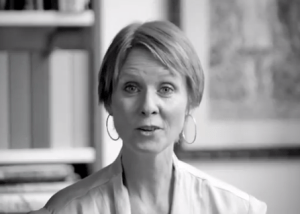 With just two weeks before voters head to the polls, two Democratic mayoral candidates are increasingly relying on celebrity surrogates to make their cases.
This morning, Public Advocate Bill de Blasio released a slickly-produced web video featuring a whole host of bold-faced names, including actor Steve Buscemi, Sex in the City star Cynthia Nixon and plenty others. Music business magnate Russell Simmons, also in the video, is further set to appear with Mr. de Blasio on the campaign trail this afternoon.
Meanwhile, Council Speaker Christine Quinn, who yesterday held a press conference to tout tennis star Billie Jean King's endorsement, rolled out a web video of her own featuring award-winning actress and singer Audra McDonald's support.
"As a woman," Ms. McDonald added in a statement, "I don't see how you could possibly vote for anyone else in this election but Christine Quinn. She is someone who fights for women's issues because – because she is a woman, she understands them."
Mr. de Blasio and Ms. Quinn have notched the lion's share of celebrities in the mayor's race. Mr. de Blasio has grabbed many politically active actors and actresses like Alec Baldwin and Susan Sarandon, with Ms. Quinn–who would be the first female and openly gay mayor–doing well among famous women and members of the LGBT community, including Project Runway star Tim Gunn and actress Whoopi Goldberg.
Other candidates have received their own notable endorsements as well. Steve Schirripa, who played Bobby "Bacala" Baccalieri on The Sopranos, appeared at a fund-raiser for Republican Joe Lhota, for instance, while musician Willie Colón has backed Democrat Bill Thompson.
And former Congressman Anthony Weiner has been endorsed by hot dog-eating champ Joey Chestnut.
Watch today's de Blasio and Quinn videos below:
[youtube=http://www.youtube.com/watch?v=3uVcDlf4ajo&w=420&h=315]
[youtube=http://www.youtube.com/watch?v=3SQ0agpMNkM&w=420&h=315]