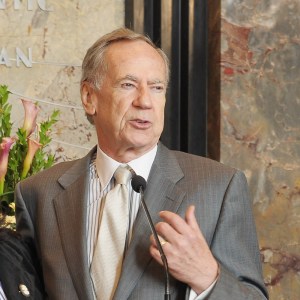 69-year-old McDonald has a beef, E-I-E-I-O.
George McDonald, a Republican mayoral candidate who's seen a moderate surge of interest in his long-shot campaign since Democratic rival Anthony Weiner called him "grandpa" before a Tuesday forum, is not willing to let the issue go.
In addition to doing a batch of interviews responding to the remarks, Mr. McDonald fired off a combative statement this afternoon that once again blasted Mr. Weiner for the jab as well as his sexting controversy.
"What are you going to do about it Anthony? What are you going to do about offending seniors all across our city?" asked Mr. McDonald. "Carlos, Anthony or whatever he calls himself owes an apology to all the grandpas, grandmas and seniors out there who sacrificed to build this city and country. They don't deserve to be diminished by some punk, hack ex-congressman who can't keep his pants up around a smart phone."
"Anthony Weiner apparently thinks that 'grandpas' are somehow feeble and unable to stand up for themselves. As the only grandpa in this race, I can tell you we we are not," Mr. McDonald continued. "I don't need the apology, but New York's seniors deserve one."
It should be noted that Mr. McDonald, eager to garner media attention, often attacks Mr. Weiner at forums and debates with insults like "self-pleasuring freak." The crowds, however, have tended to back Mr. Weiner on such occasions by booing the criticism.
Mr. Weiner has defended the "grandpa" remark by noting Mr. McDonald often refers to his granddaughter on the campaign trail.