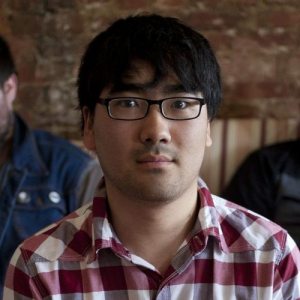 Steve Wozniak is a dedicated vegetarian who has never ridden a Segway. He has never worked for Apple, never met Steve Jobs and he does not have a penchant for checking in at Chili's for free chips and dip–in fact, he's not sure he's ever even been to Chili's. Steve Wozniak was adopted from Korea into a Polish family and lives the modest life of a modern programmer in Brooklyn. He was not recently portrayed in Ashton Kutcher vanity project film Jobs.
This is not the Steve Wozniak you're probably looking for. This is Stephan Wozniak, a 20-something programmer at NYC startup LearnVest who just so happens to share the same name and industry as esteemed Apple cofounder, Segway fan and Chili's enthusiast Steve Wozniak. And because of this, he's experienced a lot of mishaps and mistakes and hilarious encounters throughout his life–though he's pretty sure the other Steve Wozniak doesn't know he exists.
"I don't remember when I first found out [we shared a name], but it became relevant when the iPod started to take off," Mr. Wozniak told Betabeat via email. "Since I studied computer science in college, it came up often in my courses. Now that I am working in the NYC tech scene, it's unavoidable."
In fact, the whole name mixup is so unavoidable that even something as simple as registering for a Meetup can generate a lot of unnecessary confusion and excitement from fellow attendees, such as the time he received this message: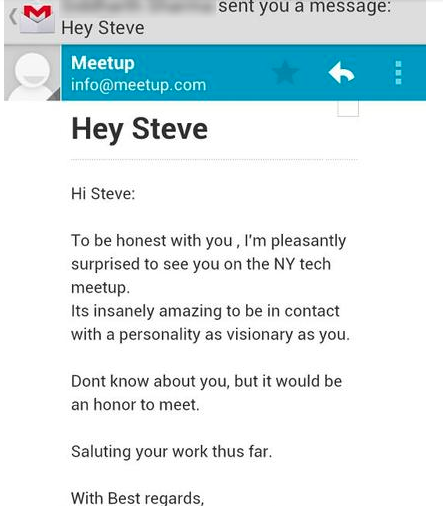 Or the time he tried to order a burrito from his favorite Mexican joint in Brooklyn: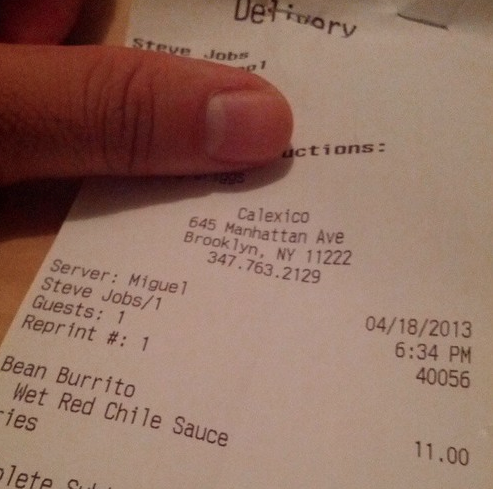 Not to mention the time he registered for Google Plus with his real name and his entire Google account got suspended for supposedly impersonating the other Steve Wozniak. The whole fracas required an intervention by a VP of Google Plus: "Huge apologies for the inconvenience," he wrote. "We're definitely going to get this improved for all humans – from unique cases like yours to the more typical ones."
Mr. Wozniak gets tagged in Flickr and Facebook photos of the other Woz, fields tweets addressed to the other Woz and even responds to fan mail sent to him by people who think he's the other Woz (though he always makes clear that he is, in fact, just a same-name humble programmer in Brooklyn).
Luckily, the whole name mix up doesn't appear to be hurting his job prospects. "I bet anyone who catches the name will at least give my cover letter a read, so for that, it's an advantage," Mr. Wozniak said. "It's like a trade off for all the bad jokes I hear. And I bet there were some HR reps that just assumed it was fake when they saw the name and promptly deleted it (Apple, I'm looking at you)."
Though he's never met Apple's Steve Wozniak, he did come close once. In the summer of 2011 he was asked to be on the short-lived CBS show Same Name with the other Steve Wozniak.
"They had already cast four episodes, and were just looking for short stories to post on the site from people in the same unfortunate situation," Mr. Wozniak said. "I submitted a story about how I wanted to ride on a Segway and watch the co-founder of Apple play in my punk band."
He went through the entire interview process and was about to sign all of the necessary paperwork before receiving the sad news that the show had been canceled.
Of course, just because they share a name and an industry doesn't mean this Steve Wozniak and the other Steve Wozniak share other interests. For one, Brooklyn's Woz has never gotten the chance to joyride on a Segway. Plus there's that whole love of Outback Steakhouse thing.
"I know he has a reputation for adoring chain restaurants," Mr. Wozniak said. "It does seem that for every animal I don't eat, he eats three."