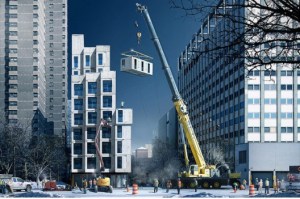 "We must develop a new, scalable housing model that is safe, affordable and innovative to meet their needs," Michael Bloomberg said back in 2012 when he announced a pilot plan to build smaller-than-currently-legal apartments on a city-owned site in Kips Bay. Monadnock Development, Actors Fund Housing Development Corporation and nARCHITECTS eventually won the "adAPT NYC" competition, and are putting up a 55-unit building on East 27th Street between First and Second Avenues.
Safe and innovative, sure, but are they really affordable?
Sixty percent of the units will be let at market rates, but even the forty percent that are "affordable" are really stretching the definition. Half of the "affordable" units will go for around $1,800 a month—cheap compared to new construction, but, as with many of the city's new "affordable" middle-income units, in actuality geared toward upper-middle-income households. (The disparity comes in that the "area median income" from which the rents are derived is calculated based on the entire metropolitan area, including wealthy suburbs in New Jersey, Westchester and Long Island. The five boroughs, on the other hand, are considerably less well-off.)
And the Association for Neighborhood and Housing Development, an affordable housing advocacy group (which, by the way, is releasing a report on Friday pushing for mandatory inclusionary zoning), notes that the more expensive "affordable" units are actually not even particularly affordable by the standards of the neighborhood's existing housing stock.
Moses Gates wrote earlier this month:
On a per-square-foot basis, the rents are higher than the average free-market rents for the neighborhood, which are $53/square foot, according to the latest Elliman report. Even the largest unit, at 350 square feet, is still over $60 a square foot for the 145 percent and 155 percent AMI units. And the average rent for a studio in in the neighborhood is $2,247. An "affordable" MicroUnit is only about a 15-20 percent discount over a typical studio for the neighborhood, and is about 30 percent-50 percent smaller than HPD affordable housing guidelines for studio apartments.
So what we're left with are 20 percent of the units—that is, 11 apartments—that will be vaguely affordable. But only vaguely—at $940 a month (a provisional number that will almost certainly rise to whatever 80 percent of area median income ends up being when the building opens; ANHD suggested they might rent for $1,115 a month), they'll still be more expensive on a per-bedroom basis than sharing an apartment with a few friends in Bushwick or Prospect Heights.
And this, Mr. Gates notes, despite the fact that the city sold the land for just half a million dollars. (We'd also add that the developers are using relatively low-cost modular construction techniques.)
Micro-apartments are an interesting concept that may allow some well-off young (or old) people to live in Manhattan at a slightly lower price point. But a solution to the city's affordable housing crisis, they are not.