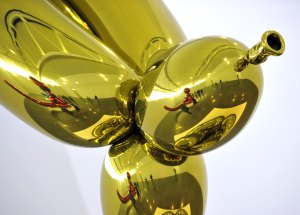 Poor Los Angeles. Poor, poor Los Angeles. Last year its Museum of Contemporary Art scuttled plans to host Tate Modern's Damien Hirst show and an exhibition of Richard Hamilton's work, and now MOCA is saying that it will not open its Koons retrospective in January, as previously planned. The show will debut at the Whitney in June of next year, and then travel to Paris's Centre Pompidou in October. A rep for MOCA told The Observer, "We anticipate a 2015 opening."
"It was decided by MOCA and the Whitney that it would be better for an exhibition as complex and ambitious at this one to be developed over a longer period of time," a Whitney spokesperson, Stephen Soba, told Bloomberg on Friday, "and that the show should open in June in New York."
No word on whether Jeffrey Deitch's departure from the museum last month was connected to the delay, though the dealer has been a big Koons booster over the years.
Actually I can't even pretend to feel badly for Angelenos. They got to have Laura Owens's huge painting show at 356 Mission all to themselves for about half a year, and that show did not travel to New York.
Update, Aug. 4: This article has been updated to include a comment from a MOCA press representative, stating that the museum still plans to host the retrospective, and that it has not canceled the show.