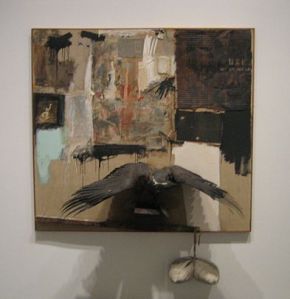 The Museum of Modern Art announced today that this winter it will stage "Ileana Sonnabend: Ambassador for the New," a exhibition dedicated to the artists and works that passed through the gallery of the influential dealer.
The show follows a major donation from Sonnabend's family, Robert Rauschenberg's Canyon (1959), which features a stuffed bald eagle and which the Metropolitan Museum of Art also wanted (MoMA ended up putting Sonnabend on its Founders Wall in the lobby).
Full press release follows:
THE MUSEUM OF MODERN ART TO PRESENT EXHIBITION CELEBRATING THE LEGACY OF RENOWNED GALLERIST AND COLLECTOR ILEANA SONNABEND

NEW YORK, August 9, 2013—The Museum of Modern Art will pay tribute to the legacy of the legendary gallerist and collector Ileana Sonnabend (1914-2007) with an exhibition of works that were shown in her galleries in Paris and New York from the 1960s through 1980s, revealing her extraordinarily prescient selection of new artists of the time. Ileana Sonnabend: Ambassador for the New, on view from December 21, 2013, through April 21, 2014, celebrates the Sonnabend family's generous gift in 2012 of Robert Rauschenberg's Combine painting Canyon (1959) to MoMA, and salutes Sonnabend's commitment to introducing groundbreaking art to the public. Works by some 30 artists, including Rauschenberg, Jasper Johns, Andy Warhol, Robert Morris, Mario Merz, Vito Acconci, Mel Bochner, John Baldessari, and Jeff Koons, will be drawn from MoMA's holdings and from other public and private collections, spanning a range of mediums including painting, sculpture, photography, video, and live performance. The exhibition is organized by Ann Temkin, The Marie-Josée and Henry Kravis Chief Curator of Painting and Sculpture, and Claire Lehmann, Curatorial Assistant, Department of Painting and Sculpture, The Museum of Modern Art.

During a career spanning half a century, Sonnabend helped to shape the course of postwar art in Europe and North America, discovering and championing some of the most significant artists of her time. Renowned for her ambassadorial role in bringing new art across the Atlantic, Sonnabend was instrumental in introducing American Pop art and Minimalism to Europe and Italian Arte Povera to the United States. Sonnabend also sought out and supported some of the most noncommercial and challenging Conceptual, new-media, and performance-based art of the 1970s. The exhibition will highlight the astounding scope of Sonnabend's wide-ranging taste, and will include works from seminal exhibitions held at Sonnabend's galleries in Paris and New York, including works from the first European solo exhibitions of Roy Lichtenstein, Andy Warhol, and James Rosenquist in the early 1960s; the American debut exhibitions of Mario Merz and Jannis Kounellis in the early 1970s; Vito Acconci's provocative three-part performance-based exhibition in 1972; and the much-discussed Neo-Geo group exhibition held in 1986.