Morning News Digest: Aug. 2, 2013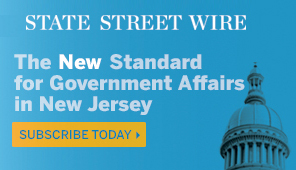 Booker: No to running in 2016
Newark Mayor Cory Booker might be in Washington in the near future, but he won't be working out of the White House.
The front-runner in the upcoming U.S. Senate election said "unequivocally" Thursday that he's ruled out running a 2016 campaign for president or vice president, according to published reports. (PolitickerNJ)
http://www.politickernj.com/67467/booker-yes-not-running-2016
Advocates call on Dem U.S. Senate candidates to support Social Security expansion
TRENTON – A coalition of about a dozen individuals from groups representing tens of thousands of New Jersey families called on all four of the state's Democratic Senate hopefuls Thursday to publically support Social Security expansion.
Members gathered on the Statehouse steps to demand New Jersey's next Senate lawmaker state their position on the expansion of Social Security before voters head to the polls in the upcoming primary. (Arco/PolitickerNJ)
http://www.politickernj.com/67465/advocates-call-democratic-us-senate-candidates-support-social-security-expansion
Cory Booker Says He Doesn't Support Cutting Social Security Following Progressive Rally
Democratic New Jersey U.S. Senate candidate Cory Booker said he supports expanding Social Security and Medicare hours following a press conference Thursday where his opponents challenged the popular Newark mayor on the issue.
The Progressive Change Campaign Committee held a morning rally in Trenton with Booker's opponents, Rep. Frank Pallone, Rep. Rush Holt and Assembly Speaker Sheila Oliver pressing Booker on the Social Security issue. Later Booker took to Twitter to say that he wants to expand, not cut Social Security and Medicare, and that he opposes raising the retirement age. A week ago Booker told NorthJersey.com that he would consider voting to raise the retirement age for those in their 20s or younger. (Celock/Huffington Post)
http://www.huffingtonpost.com/2013/08/01/cory-booker-social-security_n_3691385.html?1375390794
2016 presidential race: Cory Booker rules out run

No, there will not be a 2016 campaign for Cory Booker.
The Newark, N.J. mayor and runaway front-runner in the special election for the seat of late Sen. Frank Lautenberg's ruled out a presidential run or serving on the ticket of another candidate in the next national campaign. (Haberman/Politico)
http://www.politico.com/story/2013/08/cory-booker-2016-presidential-race-95065.html?hp=f1
Cory Booker says he won't run for president in 2016. And we believe him … sort of.
Newark Mayor Cory Booker said Thursday that he won't, under any circumstances, run for president in 2016. "Absolutely yes, unequivocally," Booker told Politico's Maggie Haberman when asked whether he would rule out seeking the nation's top office or accepting the vice presidential nomination in 2016.
Done and done. Take Booker's name off of lists like ours that rank the top potential contenders for the 2016 presidential nomination. (We had Booker ranked as the fifth most likely nominee in our most recent update.)
Or not. A quick look back in history shows any number of candidates who said they absolutely wouldn't run for president only to reconsider later. (Cillizza/Washington Post)
http://www.washingtonpost.com/blogs/the-fix/wp/2013/08/01/cory-booker-says-he-wont-run-for-president-in-2016-and-we-believe-him-sort-of/
Booker raises campaign cash with Oprah while his rivals debate
At a U.S. Senate candidates' forum tonight in Newark hosted by the city's branch of the NAACP, three of four seats at the table in front of the room were occupied by Democratic candidates for the office.
Assembly Speaker Sheila Oliver (D-Essex) was there, as were U.S. Reps. Frank Pallone (D-6th Dist.) and Rush Holt (D-12th Dist.). One seat was empty, its bottle of spring water untouched. (Friedman & Johnson/Star-Ledger)
http://www.nj.com/politics/index.ssf/2013/08/booker_raises_campaign_in_jersey_city_while_his_rivals_debate_in.html
Cory Booker chooses fundraiser with Oprah over forum with his Senate race rivals
Three of the Democrats running for U.S. Senate were in Newark on Thursday for a forum to answer voters' questions. The city's mayor – Cory Booker – wasn't.
Instead, Booker, now the front-runner in that Senate primary race, spent the evening in Jersey City at a $1,000-per-person fundraiser featuring Oprah Winfrey. "VIP" tickets, which included a photo with the mayor, cost $2,600 – the maximum campaign donation allowed under state law. (Linhorst & Hayes/The Record)
http://www.northjersey.com/news/politics/Newark_Mayor_Cory_Booker_picks_fundraiser_over_forum_with_his_Senate_race_rivals.html
Buono says she'll file for public campaign funding next week
Democratic gubernatorial candidate Barbara Buono today said her campaign will file for matching public funds at the next deadline on Monday, about two months after her general election campaign began.
"We're filing next week, and I think people will be surprised," Buono, a state senator from Middlesex County, said at a campaign stop in Atlantic County. (Renshaw/Star-Ledger)
http://www.nj.com/politics/index.ssf/2013/08/buono_to_file_for_public_campaign_funds_next_week.html#incart_river
Buono blasts Christie for staying silent on Voting Rights Act, Trayvon Martin
Democratic gubernatorial candidate Barbara Buono issued a blistering attack on Gov. Chris Christie today, saying he lacks the political courage to address national issues of race and has failed to lift the state's economy from the recession.
Buono chose a friendly crowd to deliver one of her most forceful challenges to the incumbent Christie: a ballroom full of members of AFSCME, which represents 30,000 public workers across the state and that has already endorsed her candidacy. (Renshaw/Star-Ledger)
http://www.nj.com/politics/index.ssf/2013/08/buono_blasts_christie_for_staying_silent_on_voting_rights_act_trayvon_martin.html#incart_river
Future Atlantic County medical marijuana grower to start accepting patients Monday
In the latest sign New Jersey's second medical marijuana dispensary is close to opening, Health Commissioner Mary O'Dowd announced today that registered patients who want to buy their products at the new site in Atlantic County may sign up on Monday.
The state program requires registered patients and their caregivers to pick one dispensary they wish to use. Since December, only Greenleaf Compassion Center in Montclair has served any patients, although the owners went on hiatus in June to build up their supply. (Livio/Star-Ledger)
http://www.nj.com/politics/index.ssf/2013/08/state_says_medical_marijuana_patients_may_sign_up_next_week_to_buy_from_atlantic_county_grower_in_se.html#incart_river
Christie's office receives 2,200 letters urging change in medical marijuana law for kids
More than a dozen sick and disabled children and their families today delivered nearly 2,200 letters to Gov. Chris Christie's office, hoping they will compel him to sign a bill making it easier for minors to participate in New Jersey's medical marijuana program.
Christie has made no secret about his reticence over the bill (S2842), which the Legislature passed in June in response to the plight of Vivian Wilson, a 2-year-old from Scotch Plains who is diagnosed with a severe and potentially deadly form of epilepsy called Dravet syndrome. (Livio/Star-Ledger)
http://www.nj.com/politics/index.ssf/2013/08/christies_office_receives_2200_letters_urging_change_in_medical_marijuana_law_for_kids.html#incart_river
Republican donor Sheldon Adelson hosts Christie at Las Vegas fundraiser
Conservative casino magnate and major Republican donor Sheldon Adelson and his wife will host a fundraiser for Gov. Chris Christie in Las Vegas today, The Las Vegas Sun reported.
While in town for the private fundraiser, the Republican governor will also deliver a speech at the Kipp charter school conference. Then Christie heads to Milwaukee for annual summer meetings of the National Governors Association before going on vacation at the shore next week. (Portnoy/Star-Ledger)
http://www.nj.com/politics/index.ssf/2013/08/republican_donor_sheldon_adelson_hosts_christie_at_las_vegas_fundraiser.html#incart_river
Merck announces it will lay off 113 at its Kenilworth facility
Global pharmaceutical giant Merck & Co. Inc., based in the Whitehouse Station section of Readington, will lay off 113 workers at its Kenilworth division effective Oct. 1, according to the New Jersey Department of Labor. (Zanki/NJBIZ)
http://www.njbiz.com/article/20130801/NJBIZ01/130809980/Merck-announces-it-will-lay-off-113-at-its-Kenilworth-facility
Health plan pricing through Affordable Care Act coming next month
Small businesses and individuals shopping for government-subsidized health plans on New Jersey's exchange will learn the details — and pricing — for those new plans and their prices in mid-September, according to the Center for Medicare & Medicaid Services of the federal Department of Health and Human Services.

Individuals also can use the website www.healthcare.gov to learn if they are eligible for Medicaid, which is being expanded significantly under the Affordable Care Act. HHS estimates nearly 800,000 New Jerseyans will be eligible for either free coverage from Medicaid or subsidized coverage on the exchange. (Fitzgerald/NJBIZ)
http://www.njbiz.com/article/20130801/NJBIZ01/130809981/Health-plan-pricing-through-Affordable-Care-Act-coming-next-month
Watchdog: Sandy contractor sued in Texas over Hurricane Ike recovery work
The company in charge of planning distribution of New Jersey's federal superstorm Sandy recovery aid fell down on the job when working in Texas after Hurricane Ike, a lawsuit filed by the Texas General Land Office charges.
CDM Smith, which has an office in Edison, beat out five other firms for a $9.5 million contract earlier this year to provide New Jersey's Department of Community Affairs assistance in crafting the state's overall strategy for housing recovery and community rebuilding. (Jordan/APP)
http://www.app.com/article/20130731/NJNEWS1002/307310083/Watchdog-Sandy-contractor-sued-Texas-over-Hurricane-Ike-recovery-work
Wall Street Lowers Ratings of JCP&L, State's Second-Largest Utility
Wall Street is growing more skeptical of the finances of Jersey Central Power & Light, the state's second-largest electric utility and perhaps the most despised by its more than 1 million customers.
Fitch Ratings yesterday downgraded the credit ratings of the utility's parent, FirstEnergy Corp., based in Akron OH, as well as JCP&L's, citing numerous issues with both companies. (Johnson/NJSpotlight)
http://www.njspotlight.com/stories/13/07/31/wall-street-lowers-ratings-of-jcp-l-state-s-second-largest-utility/
Second Medicaid HMO Taken to Task for Lax Oversight of Fraud Prevention
For the second time in two years, State Comptroller Matthew Boxer has found that a company that manages Medicaid patient care for the state is failing in its responsibility to oversee fraud prevention efforts.
Boxer's office released a report yesterday criticizing UnitedHealthCare for failing to hire or train the appropriate number of fraud investigators required by its contract with the state. Their efforts recovered only $1.6 million in improper payments, representing less than a tenth of a percent of the $1.7 billion state Medicaid premium payments to the company. (Kitchenman/NJSpotlight)
http://www.njspotlight.com/stories/13/07/31/second-medicaid-hmo-taken-to-task-for-lax-oversight-of-fraud-prevention/
Christie: 'Speechless' at 2012 recruitment
July 31 2013 1:29 PM EDT — Dan Balz talks about his one-on-one with New Jersey Gov. Chris Christie (R), as chronicled in his new book, "Collision 2012: Obama vs. Romney and the Future of Elections in America." (The Washington Post)
http://www.washingtonpost.com/posttv/video/inplay/christie-speechless-at-2012-recruitment/2013/07/31/6ec420de-fa2b-11e2-8752-b41d7ed1f685_video.html
Chris Christie at Sheldon Adelson fundraiser in Las Vegas

New Jersey Gov. Chris Christie is attending a gubernatorial fundraiser in Las Vegas Thursday hosted by casino billionaire Sheldon Adelson and his wife Miriam, a source familiar with the event confirmed to POLITICO.

The event is for Christie's reelection effort, and the source insisted too much shouldn't be read into it about 2016 and Adelson's intentions. The event is at The Palazzo, a resort owned by Adelson, but the Adelsons themselves are out of town and not expected to attend. (Haberman/Politico)
http://www.politico.com/story/2013/08/chris-christie-sheldon-adelson-fundraiser-95085.html
From the Back Room
Buono starts online petition calling for Arango's resignation
A day after the state's Democratic gubernatorial candidate called on her opponent to demand the Hudson County Republican chairman resign his post, Barbara Buono's campaign took the fight to the web.
Buono's camp started an online petition Thursday that asks supporters to put pressure on Gov. Chris Christie and demand that he urge Chairman Jose Arango to resign. Buono called for Arango to step down yesterday after the chairman made comments she blasted as "wildly sexist." (Arco/PolitickerNJ)
http://www.politickernj.com/back_room/buono-starts-online-petition-calling-arangos-resignation
Opinion
Spanking Rand Paul
Gov. Chris Christie finally hit a target that deserved a good slap-down this week when he went after Kentucky Sen. Rand Paul, one of the most self-righteous prigs in American politics.
This guy is as nutty as his father, former U.S. Rep. Ron Paul (R-Texas), only without the quirky charm. He believes the Environmental Protection Agency should be disbanded, as should the Department of Education. In his 2010 campaign, he said he opposed the underlying principle behind the Civil Rights Act because the federal government shouldn't interfere with private businesses. This is all ideology gone mad. (Star-Ledger)
http://blog.nj.com/njv_editorial_page/2013/08/spanking_rand_paul.html
Doblin: The leader of few gives Buono campaign a boost
JOSE ARANGO did something no Democrat has done: He drew attention to Barbara Buono's campaign for governor. He did it by insulting Buono's choice for lieutenant governor, Milly Silva, someone with even lower statewide recognition than Buono.
Arango is the Hudson County Republican chairman, which means he has as much influence as a Smithfield Ham salesman at a vegan convention. As movers and shapers go, Arango is not even a backhoe. But his comments were inappropriate, even though his point that Silva is not qualified to be governor of New Jersey is essentially correct. (Doblin/The Record)
http://www.northjersey.com/columnists/doblin/doblin_080213.html