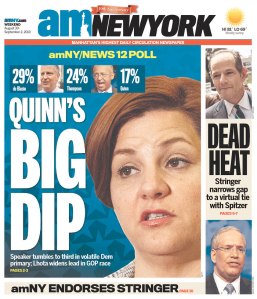 Headline of the Day: "NYC 2013 Irony Alert: Parking Edition."
The Daily Beast profiled Public Advocate Bill de Blasio's front-running mayoral bid. "Bill de Blasio is much closer to Machiavelli than to Marx. He is not a left-wing crusader or ideologue," says one unaligned Democratic operative in the piece. "He lives for the game."
While Daily News columnist Mike Lupica penned an ode to Mr. de Blasio's son, Dante de Blasio, who "has stepped out of the line over the past couple of months because of his wonderful Afro and the clear appeal of the first television ad in which he appeared talking about his father." The publication also covered afro backlash today.
Council Speaker Christine Quinn's mayoral campaign is encouraging interns to skip their first day of class, and, according to a New York Post account, telling them: "If you want me to be real for a second, a letter coming from the next mayor of New York City saying that you helped her on election day is something you can definitely put on your resume or application."
Former Congressman Anthony Weiner's latest "Big Thought Thursday" press conference drew almost no press: "A few short weeks ago, … Weiner stood at the pinnacle of political celebrity, his every voter handshake chronicled by a voracious mob of reporters. But on Thursday, Mr. Weiner arrived in front of a luxury condominium building in Chelsea and found only two of them – and one wanted to ask about his sinking poll numbers."
This is strange: After condemning ex-Gov. Eliot Spitzer's comptroller candidacy as "a huge affront to women," current Comptroller John Liu was in talks with him to campaign together. Liu supporter Norman Seabrook, who reportedly helped broker the arrangement, said talks broke down when Mr. Spitzer only wanted to send out joint mailings to Asian American voters. "My response to that is, 'No fucking way,'" Mr. Seabrook explained.
And Mr. Spitzer was also battered in more editorial pages today.