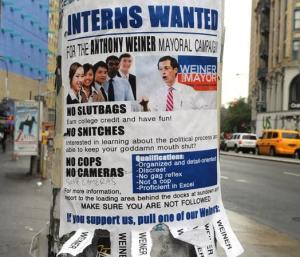 Headline of the Day: "Ambitious, Talented, And Twenty: And Don't It Make Your Brunis Blue?"
Runner-Up: "Spitzer again refuses to answer point-blank question about 'girlfriend'"
Knock knock. Who's funny? Apparently not the mayoral candidates. The Daily News asked the contenders to share their favorite jokes on camera, and the results are entertaining, if not comic gold. Only Anthony Weiner refused to weigh in, explaining, "I'm not a very jovial guy,"
Disgraced former Assemblyman Vito Lopez is apparently using a doctored photo in a new mailer, making it look as if Hillary Clinton is backing his incredulous City Council run. According to the News, the photo originally showed the pair standing in front of an "Elect Diana Reyna" banner. In the new version, the banner reads, "Elect Vito Lopez."
Meanwhile, Assembly Speaker Shelly Silver is reportedly trying to quash lawsuits brought by two former Lopez staffers who say they were groped while worked for him. In papers filed last week in federal and state court, Mr. Silver's lawyers argued the suits should be dismissed because Mr. Silver took "swift and effective" action after the women's complaints.
The Wall Street Journal quizzed the candidates on whether they would have handled Occupy Wall Street differently, and came up with some interesting responses. "At the end of the day, we failed," City Council Speaker Christine Quinn told the paper, describing the conversations between the protesters and administration as "adversarial." Mr. Weiner–again the odd man out–was the only Democrat to side with the administration, arguing that the mayor and police gave the protesters enough time to "blow off some steam," but "were right to move the encampment."
The group trying to ensure "Anybody But Quinn" gets elected mayor is reportedly collecting money far over the legal limit. According to Crain's Business Insider, nearly a third of the more than $1 million spent so far by New York City Is Not For Sale on a campaign to tarnish the race's front-runner came from contributions that top the legal limits set by the state. The group said it was unaware of any issues.
Meanwhile, Mr. Weiner's latest scandal is not dampening his "flamboyant campaign style." According to the News, the former Congressman, who allegedly talked about his mayoral ambitions during his racy conversations with Sydney Leathers, marched in a Queens Ecuadoran parade yesterday wearing bright blue pants and a shiny gold tie. "I'm going to be much more demure, I'm going to wear only brown pants and white shirts," he joked to the paper, adding, "This is what I am."
Long-shot mayoral candidate Ceceilia Berkowitz was interviewed by Leonard Lopate and Kurt Andersen. You can watch it here:
[youtube=http://www.youtube.com/watch?v=_10-6YlJ048&w=560&h=315]