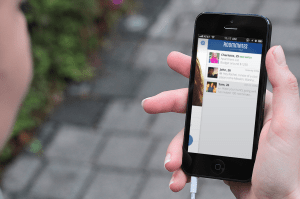 Who among us does not know the particular misery of seeking a shared apartment? Situated somewhere between a job interview and a date, the roommate search process requires warmth, charm, pay stubs and an ability to convincingly convey that one will not leave dirty dishes in the sink. And that's assuming that all is well when it comes to the apartment itself (there's nothing quite like the heartbreak of meeting a truly appealing roommate looking to rent a room in her tiny, windowless hovel).
Craigslist, for all its faults, remains the dominant means for most people in large cities to find apartment shares. But ApartmentList.com, which claims to be the country's fastest-growing housing search engine, is hoping that a new app might help it to take a big chunk of the roomshare market. Today, the company is launching a free app in New York, as well as in Los Angeles, Chicago and Boston that uses Facebook to match potential roommates.
In New York it's the perfect storm of high housing costs and low vacancy rates," Apartment List co-founder John Kobs told The Observer. "I had the experience, the painpoint of trying to find a roommate myself when I lived in New York. I did the Craigslist thing, but we ended up with a lot of crazy people coming to the apartment."
(We are sympathetic to such complaints, having visited 24 different Craigslist apartments the last time we moved. That said, we have used the site to find many shared living arrangements that we've loved.)
The Roommates app uses Facebook profiles to match potential roommates, who fill out a list of search categories—price range, neighborhood, etc.—and are then shown profiles (and potential overlapping social circles) of other apartment/roommate seekers who are looking for the same thing. Much like a handful of dating apps, when there's a mutual match, with two seekers selecting one another, the app with notify both parties.
Mr. Kobs said he believes that searching via Facebook profiles—users can choose how much of their profiles to reveal to other users, with the expectation that most users will chose to reveal at least the schools they went to and their current job—will offer a trust and transparency that is lacking from the more free-for-all marketplace of Craigslist.
"I think it has to be transparent," he said. "There are tons of dating apps that work on the Facebook model. This is different than dating someone in some respects, though. If you go on a bad date, it's not the end of the world. But if someone bad moves in, you'll be stuck with that person in your apartment for who knows how long."
The app initially launched two weeks ago in San Francisco—possibly the only other city in the country whose housing madness rivals New York—and Mr. Kobs said that it has already been downloaded 2,000 times, with users cycling through an average of 40 profiles per visit. (The app can also expect at least something of a built-in clientele from ApartmentListings.com.) And he has high hopes for the app give the growing need for roommate-matching services in cities where a larger and larger percentage of the population, driven by high housing costs, is living with roommates. Whereas once roommates were largely a 20-something phenomenon drawn from a pool of college or high school friends who would slowly shift into solo living arrangements, these days many New Yorkers find themselves unable to foot the bill for a studio well into their thirties and even their forties.
Of course, the challenge of competing against Craigslist is that it has a lot of offerings; its incredible popularity means that users will find a lot of legitimately good leads even if that means sifting through a ton of terrible ones.
"Craigslist has built an amazing marketplace," said Mr. Kobs. "But the number one thing we hear is that 'No one gets back to me.' People get 50 emails and they don't have time to respond. It's the black hole of Craigslist."
In the fall, the company plans to start offering roommate meet-ups in New York to give seekers a chance to meet face-to-face—a practice that several other services have been offering in the city, with some apparent success, for the last few years. In fact, we accidentally stumbled upon one last night in the Playwright bar in Midtown. Although as one of the clearly desperate househunters explained to one of our colleagues, she hadn't abandoned Craigslist yet.
"I'm trying everything," the woman said.