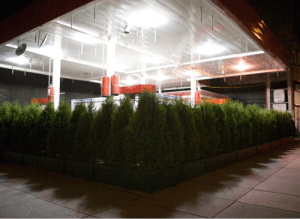 Mere weeks after closing on a development site at 239 Tenth Avenue, newly back-on-the-scene Michael Shvo is already shaking up the status quo.
The go-go broker—now developer—whose brash branding campaigns and outsized ambition earned him a lot of friends, enemies and press in the gaga years before the housing crash, is up to his old tricks. First, Mr. Shvo announced his return with a (debatabley) price record-setting purchase of the West Chelsea lot. And now he has redecorated it, surrounding the old Getty gas station at its center with a thick wall of trees, reports Curbed.
After all, when one purchases a "priceless" development site for $23.5 million, with plans to build a "residential luxury experience" that is "bound to raise the bar for development in New York City," you don't want to have the home of your future masterpiece's just sitting there.
At least, that ho-hum approach was not an option for a man like Mr. Shvo, who promptly installed 50, 7-foot-tall Arborvitae trees around the perimeter of the site in a startling, mid-summer approximation of a Christmas Tree farm (indeed, we would caution Mr Shvo to get things rolling before late November if he doesn't want to be bombarded by the residents of nearby luxury condos.)
Curbed says that this green fence/hedge is intended to act as an extension of the High Line—albeit one that doesn't quite have the same elegance of Diller, Scofidio + Renfro's design—as well as, we assume, keeping cars from pulling off the West Side Highway in an attempt to fill up at the now-defunct gas station.
Mr. Shvo's reps are crowing that this is the first time a developer has built a hedge-fence around a future construction site and we think they're right; at least we can't think of any other conifer-clad lots. Other developers have built temporary parks and greenspaces, like Two Trees at the Domino Sugar site, but that park just has a bike track, a small farm and yoga classes. (Boring!)
In any event, we are just thrilled to see that Mr. Shvo's over-the-top style has not been blunted or diminished by his time away. We can't wait to see what the "unparalleled group of creative talent" that he has tapped to craft "a new level of ultra-luxury residences" will come up with next.