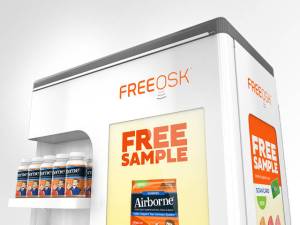 It's always great when food stores give out free samples. But sometimes, when we're perusing Sam's Club on a Sunday afternoon trying to fit as many free pigs-in-a-blanket as possible inside our mouths at once, we can't help but think, "God damn, where is all the data behind this? And why did I just have to look into the face of another human to get this food?"
Thankfully, a new startup is looking to disrupt free samples once and for all. A free sample kiosk called Freeosk will enable users to swipe a loyalty card or scan their iPhones in order to collect the goods, PSFK reports.
"We thought, God, do you really need a person handing this out?" cranky founder Matt Eichorn is quoted as saying in Fast Company. "Couldn't there be a more efficient way? What killed us most is that there wasn't even data behind the experience."
Pssh, seriously, what's a free food experience without data? Mr. Eichorn says Freeosk will "aggregate all the data to see who is engaged and who is converting," as users can swipe their store loyalty or membership cards if they decide to actually buy the stuff they got for free from a vending machine just a few days ago.
Most importantly, Freeosk provides one more way in which we can avoid human interaction while getting what we need. "Leaving your brand interactions up to an in-store representative is far from ideal and often risky," Fast Company asserts. Because apparently, getting your free Twinkies from a bland electronic box beats listening to the chirpings of a Hawaiian-shirted Trader Joe's employee.