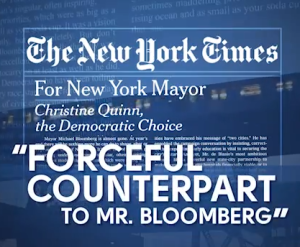 That was fast.
Less than half a day after copies of The New York Post shipped out across the city with its reluctant endorsement of her mayoral campaign on the cover, Council Speaker Christine Quinn is out with a new ad touting her support from the city's three big daily papers.
"It's unanimous for mayor! The New York Times, Daily News and the Post all endorse Christine Quinn as the Democrat who can get things done," an exuberant moderate declares over uplifting music.
Although the ad proudly displays all three endorsements, it's clear Ms. Quinn's campaign is particularly proud of the nod from The Times, which is repeatedly quoted by the narrator. Ms. Quinn was labeled a "forceful counterpart to Bloomberg," the narrator notes, for instance.
Watch the new Quinn ad below:
[youtube=http://www.youtube.com/watch?v=p4pBOTBXvBY&w=420&h=315]