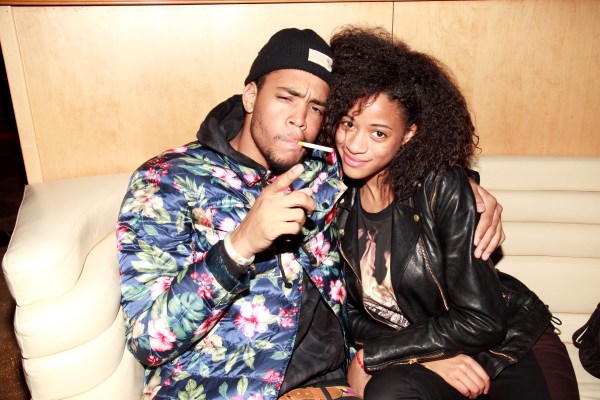 As Kilo Kish entered Lil' Frankie's Pizzeria, she waved adoringly at the bartenders and waiters who have come to know her well. The 23-year-old musician, model and designer took a seat in a back room that smelled of freshly applied paint, where she ordered chamomile tea to soothe a sore throat.
When asked how it felt to be a minor celebrity at 23 years old, an accidental star of the New York rap scene and part of a nouvelle vague of It Girls, she shifted uncomfortably in her seat; turns out, it's a designation she wears uneasily.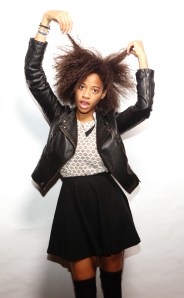 "I don't think of myself as a party girl, although I have been called that," she said.
That's a bit of a humble-brag for an artist whose first real gig, performing at the Top of the Standard in 2012, drew a roster of celebrity fans like Mos Def, Lena Dunham and Theophilus London. Soon after, a New York Times profile called her "one of those charismatic, preternaturally cool women who are part of the scene first, then transition into a creative field."
Since then, Kish has appeared in the pages of Lucky, Vice and Vogue, and scored other high-profile gigs, a mainstay in places like Art Basel Miami Beach and Williamsburg.
Although she has been somewhat of a fixture on the New York scene for several years, her tenure is coming to a close. Come September, Kish and her boyfriend, Flatbush Zombies manager and fellow creative jack-of-all-trades Phillip Annand, will be moving to a turquoise one-bedroom cottage in Laurel Canyon, not far from the Hollywood Hills, but a far cry from the East Village eatery where we're chatting.
"I just wanted more space, I wanted more greenery," she said. "I'm moving to be, like, on a commune by myself. I'm trying to completely switch it up – be quieter, not have to be out all the time."
When we met, Kish wore an ombré denim jacket over a black shirt and jeans. A printed scarf, a gift from a high school friend, held back the wild, frizzy curls that have become something of a trademark. Slim and stylish, it was easy to see why Kish has scored the myriad party invitations and modeling gigs that cement the cultural relevance of ubiquitous New York icons like Chelsea Leyland (whom Kish counts as a friend) and Cory Kennedy.
"I'm just a lucky person – I've always been lucky," she said, by way of explanation. "I always wanted to be in Vogue – that was one dream of mine that came true. But I never had a goal to do music, so everything that's happened in that realm is amazing, but it's not like, 'Oh, I've conquered this.'"
Hers is not the typical New York story of wealth and privilege. Kish's stardom is subtle, born of optimism and determination plus a little dumb luck. At age 18, Kish (born Lakisha Kimberly Robinson) moved to New York from her home in Florida to study design at the Pratt Institute. When her financial aid fell through, she was forced to drop out, and took on a string of sales and restaurant jobs to make ends meet. She was promptly discovered on the street by a casting agency and landed modeling campaigns for brands like Levi's and Penguin. Waiting tables at nightlife enclaves like La Esquina and Miss Lily's, she began to brush shoulders with a rotating cast of big names, including run-ins with Kanyé West and Questlove.
Her music career began on a lark, recording Lil' Wayne covers in rapper (and then-roommate) Smash Simmons's home studio. "I was working at a salon, I was pretty bored and I was kind of broke," she said. "I didn't have enough money for art supplies. I started making music just for fun. It was my outlet during that time where I wasn't painting and drawing and being creative, and all the resources were right there in my house."
Kish's simple, truncated verses in her debut Homeschool trumpet sung or spoken word over minimal, vaguely astral-sounding beats. The record and its sweet, understated single, "Navy," garnered attention from Complex and The New York Times, and landed her on the cover of The Village Voice, where her musical style was lauded as "cute, almost campy."
"It's easy to picture her riding the bus to school with a notebook in hand while dwelling on a bad relationship," Voice writer Jackson Connor offered. She followed that tremendous first offering with K+, a rap album that veered just slightly into mainstream territory with contributions from the likes of Childish Gambino, A$AP Ferg, and the Flatbush Zombies, among others.
Ostensibly, Kish is uprooting from New York for the solitude and slower pace of Laurel Canyon, but she can't totally hit the brakes. The move is also a chance to give her meandering creative aspirations room to grow; she hopes to recruit a girl band to perform with, and she and Annand are also planning to start a creative brand, to return to her roots in textile design.
"I wouldn't say that [music] is the one and true thing that I'm obsessed with," she admitted. "I have a million things that I'm obsessed with. I've always wanted to have a store. I've always wanted to make a chair. Host a TV show. Model. My goals are so random, but I think over time I can get through them."
In essence, Kish has taken the aimless drive of the young twenty-something and distilled it to an art, expecting nothing and often being pleasantly surprised.
"People should worry about what makes them happy; if the music itself makes you happy, then people will feel that and they will gravitate towards it," she said. "I think sometimes when you push too hard, it pushes against you."
[youtube=http://www.youtube.com/watch?v=hUK4riiPoW8&w=560&h=315]