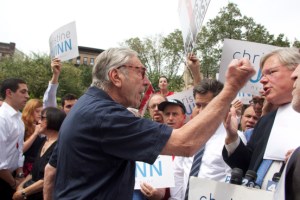 New Yorkers hate it when hospitals close, especially Manhattan and Brooklyn residents, who have suffered through a spate of closures and threatened closures, in recent years.
The shuttering of St. Vincent's in the Village led one publisher to slap a state senator ("He's a vacuous idiot," slapper George Capsis said. "He never supported saving the hospital," later admitting that he was upset because his wife died at a hospital in the Bronx, far from his home) and a Christine Quinn intern, who left in tears.
In Brooklyn, mayoral candidate Bill de Blasio and councilman Brad Lander, representing the hipster/Hasid waterfront districts, got themselves arrested while protesting SUNY Downstate's attempts to close the Long Island College Hospital in Cobble Hill. And last night, people camped out at Interfaith Medical Center in Bed-Stuy to protest that hospital's probable closure.
But apparently New Yorkers also hate it when hospitals open.
When New York Methodist unveiled plans last month to raze five Park Slope brownstones for new facilities (the hospital says the interiors are dilapidated), the neighbors complained about the parking situation and, that old NIMBY standby, the lack of outreach.
And now it's the Upper East Side's turn to hate on the hospitals that their downtown counterparts only wish they had.
"A group of concerned residents voiced outrage at the City Planning Commission's approval today," read the press blast, "of two more giant medical facilities in the flood zone"—have they never heard of moving the mechanicals to the second story?—"in the Upper East Side's Bedpan Alley, an area already overflowing with traffic from so many other hospitals." (A few weeks ago, we were walking down First Avenue on the Upper East Side, when a man with a gash on his forehead approached us and asked where the hospital was. "All around you," The Observer responded.)
"The group believes that the area is already oversaturated with medical facilities," read the statement, attributed to Residents for Responsible Development spokesman Andrew Moesel. "This is a forced fit and out of character with the surrounding residential neighborhood," it continued in all of its NIMBYrific contradiction.
"There are many other more deserving places for a hospital, such as other areas of Manhattan or in Brooklyn and Queens where hospitals are closing seemingly every week," the email concluded.
And New Yorkers' confused attitudes towards hospitals sometimes manifest themselves within the same body, as is the case with luxury real estate collector and actress Susan Sarandon. She showed up alongside Bill de Blasio on Monday, bemoaning the closure of St. Vincent's and conversion to luxury condos.
But when the hospital wanted to expand a few years ago, she had a much different opinion. The expansion of the medical center should come "as a last resort," she said in 2008 at a Landmarks hearing, according to the New York Post. "I would not want to bring my children there," she said, arguing that the city should "slow down here and look at what the alternatives are." (Ms. Sarandon later gave a somewhat muddled explanation for her apparent flip-flop, with the health care expert and Academy Award winner arguing that the plan was "outdated" and that she simply "listened" at the hearing, "because that's what you do in a democracy.") The plan was eventually defeated, and in 2010 the hospital shut its doors.