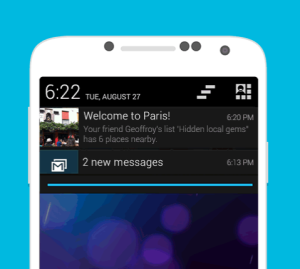 Foursquare announced a new feature today that will make it harder for you to ignore the app, despite your repeated attempts.
The company is testing a new feature that will automatically send you tips about the place you're at without ever having to open the app itself. Using this feature doesn't check you in–it's primarily for generating recommendations instead of sharing your location.
The yet-to-be-named feature will be released to 2,000 Android users while Foursquare says it plans on rolling it out more broadly–including to iOS users–later this year.
In an interview with the New York Times, Foursquare founder Dennis Crowley said the feature removes the barrier of having to search for a location, check-in and then see the tips people have offered. For example, he said the new app helped him find a great cup of iced coffee at a San Francisco cafe without even having to open the app he created.
"We've basically removed the friction from Foursquare," Mr. Crowley said to the newspaper. "We've made a piece of magic that lives in your pocket."
The company lauded the groovy new feature as giving your phone a "sixth sense; proactive recommendations of things you didn't even know you were looking for." Since it'll be based on push-notifications, Foursquare calmed fears that it's just going to drain your battery and give you more reasons to not want to use the app.
"From our internal tests on a bunch of phones, it only increases drain about 0.7% per hour, or, over the course of a day, the equivalent of about a 20-minute game of Angry Birds," it said.
As AllThingD writes, the feature comes at a curious time for the fledgling app maker. After all, it was widely expected to be the next big New York-based tech startup to be purchased by a suitor, say Yahoo!, before that award went to Tumblr. Not to mention it just narrowly avoided a down round by taking on $41 million in loans and convertible debt.
This is a clear sign that Foursquare is trying to figure out a path of its own, and attract new users, as an independent company.