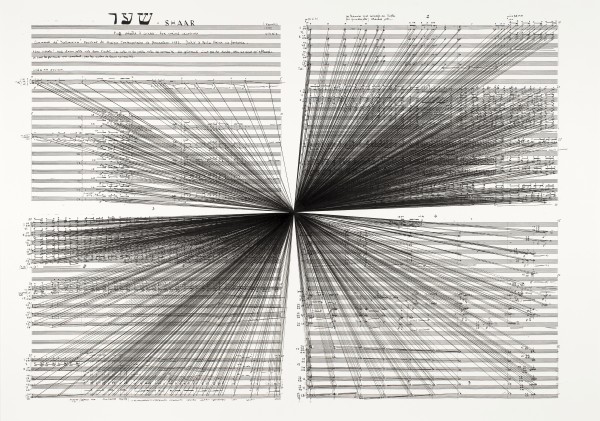 Back in June, longtime Museum of Modern Art curator Barbara London, who has unruly blond hair and a penchant for chunky necklaces, sat down for a meeting with the museum's security team. The topic at hand was how to safely install 16 speakers and two subwoofers so that the museum would be able to properly play underwater insect noises and ultrasonic echolocation calls of bats recorded by Norwegian artist Jana Winderen. Such sounds are, technically speaking, beyond the range of human hearing, but Ms. Winderen has slowed them down to about a tenth of their speed so that they become audible as fierce, sharp chirps. With the speakers arrayed around the floor and ceiling of the dark gallery, the effect on the listener is of being inside an otherworldly cave.
Ms. London, who has been at MoMA for 42 years and now works as associate curator in the department of media and performance art, spent the past 18 months putting together "Soundings: A Contemporary Score," the museum's first full-scale exhibition of sound art, which opens to the public on Aug. 10. Shortly before heading off to the security meeting, she had been discussing the show (organized with curatorial assistant Leora Morinis) in her department's office, which overlooks the museum's sculpture garden. "It's just been hard to, well, understand in an institution that's really visual," she said when asked why MoMA had never done a large sound-art survey. But now feels like the right time. "Everybody has a little phone and many have the capability to do recording, and people are sending their experiences through social media—both image and sound," she said. "Soundings" is wide-ranging, geographically—there are artists from Scotland, China and Germany—and it skews young, predominantly featuring artists born in the 1970s or '80s. Most of the pieces are brand new or have been made in the past few years. These venturesome international artists feel that the U.S. hasn't necessarily been the best place for the things they do. "There are many more institutions in Europe that are able to cater to this kind of experimental work," said Camille Norment, a Maryland–born sound artist who works in Oslo, Norway. Her contribution is an old-fashioned metal microphone into which she has inserted a light, which projects an eerie skein of lights on the surrounding walls that blinks off at random, as if miming speech. It is one of a handful of works in the show that address sound through silence.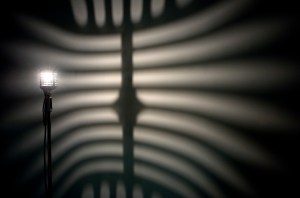 One of the show's oldest artists, at 48, is Stephen Vitiello, who became well known after 9/11 for the works he made recording the sounds of the World Trade Center during a 1999 residency on its 91st floor, and has collaborated with Ms. London on projects in the past, like "Young and Restless," a show of women video artists that they organized at MoMA in 1997 that traveled extensively. He is all too familiar with some of the problems sound art encounters in museum contexts. "What happens too often with sound artists, which I really dislike," he told me by phone last week, "is people say, 'Well, there isn't a show, but would you think about a piece over by the elevator or near the air conditioner?' Or someone offers you a staircase for the 50th time, and you think, 'But I don't make pieces for staircases.'" Ms. London, though, has made a show. She chose not to do a big historical sound-art survey as MoMA's grand entrance into the medium because, she said, "other people have done it very well." By her count in the catalog, there were 83 sound-art shows at museums in the 1970s and '80s alone. "Soundings" is instead focused on new sounds. "I'm always interested in what is going on," she said, "and what the current issues are."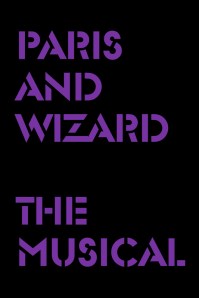 From an outside perspective, today's globetrotting contemporary art curators seem to live glamorous lives, ones well worth recounting. Still, it is perhaps a singular occurrence for an episode from a curator's life to be memorialized in a musical. In February at MoMA, the Japanese artist Ei Arakawa premiered Paris & Wizard, which was commissioned as part of the museum's exhibition "Tokyo 1955-1970." The madcap musical concerned a three-week-long art-scouting trip that Barbara London made to Japan in 1978 with a $5,000 grant from the company Matsushita (now Panasonic). Her friend the Korean-born multimedia artist Nam June Paik helped line up meetings. "I think I can do this. I think this will be kind of a life-changing event for me!" the young Swedish-born artist Marie Karlberg announced giddily onstage, portraying Ms. London (her name is Paris in the musical). Mr. Arakawa has been fascinated with the work of that era. "Barbara was right in that moment," he said by email. "It was very interesting to imagine the energy that Barbara was contacting with."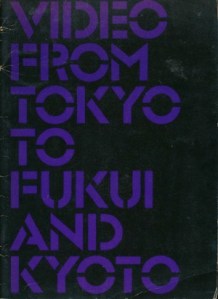 In the late '70s, Japanese contemporary art was almost completely unknown to U.S. audiences, and Ms. London came back with a number of video works that she swiftly put on display at MoMA. She studied Japanese and would return to Asia in subsequent years, even writing a kind of proto-blog from China in 1997 called "Stir Fry," to which she uploaded images from studio visits in the country. "Only one artist had a computer, and that was Feng Mengbo," she said. "I had to take them into my hotel into the business center to show them what I was doing, because they didn't know." Online reports from Eastern Europe and Russia and then Japan followed. ("I've always been pretty fearless with travel," she said. "I think at 8 I took my first train ride alone.") But she's similarly relentless at home. Miriam Katzeff, a young curator and dealer, recently ran into her late one night at the Drone Festival, an experimental-music event at the Knockdown Center in Ridgewood that ran until 3 a.m. ("I was amazed to see her in the middle of nowhere," Ms. Katzeff said. "It takes a certain interest level to trek out there.") "You start with a file folder," Ms. London said in the office, describing her curatorial approach. She fills binders and binders with material when researching. "It's a file folder, whether it's the manila one or now a computer one."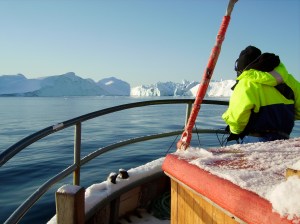 As it happens, one of her early folders was devoted to sound art. In 1979, she organized the museum's first (very modestly scaled) exhibition of the form, "Sound Art" (the bluntness of the title speaks to what was then the newness of the medium), in a so-called "media gallery" so small that only one piece could play at a time. The three works in the show had to be constantly rotated. It was a quiet milestone for the medium. Though sound art can be traced back at least as far as the early 20th century, to audio work and musical performances by avant-garde groups like the Futurists and Dadaists, it wasn't identified as a separate strain of artistic practice until the 1960s, when conceptual artists began seeking to "dematerialize" art, crafting ideas instead of objects, and alternative spaces opened in various cities to show new work that took the form of sound, video and performance.