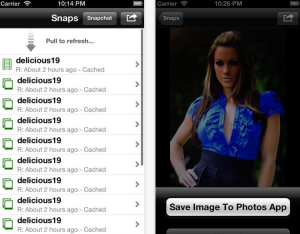 It's no secret that your sexy Snapchats aren't as ephemeral as you think they are. There's several ways to save them forever, including the convoluted method of hacking into your phone to retrieve the deleted snaps. Now a new app just made it so much easier to extend a snap's livelihood beyond ten seconds.
Meet Snap Save, a separate iOS app that lets you keep those pictures and videos forever. Unlike taking a screenshot, the free program doesn't alert the sender that you're saving that sext forever. Your worst nightmare has finally materialized! 
We tried it out and it's rather simple, albeit buggy. Here's how it works: First, log in using your Snapchat credentials, and you'll be presented with a stream of snaps. When someone snaps, you'll have to open it in Snap Save, where the message will be stored in the app. A $2.99 upgrade lets you import the pictures to your photo roll (of course, you could just screenshot those and save the money for an iced coffee) but also gets rid of the ads.
Remember, you can't open the snaps in Snapchat and then save them in Snap Save, so you'll be hopping between the two apps to send and view if you're that adamant about saving them. Using the app also logs you out of Snapchat, since you're only allowed on active session at any given time (and Snap Save uses your Snapchat ID). That causes a lot of headaches, but the "Remember Password" option is helpful in cutting down of time of logging back in.
Now who is going to be the one to tell Jim Cramer?