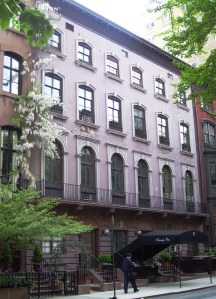 Paddle8 founder Alexander Gilkes made a name for himself with an online art auction site, but when it comes to buying a home, he doesn't seem to want much competition: Mr. Gilkes and his new wife, Misha Nonoo, just bought a sprawling, whisper-listed, Greenwich Village co-op.
They picked up the apartment at 23 West 9th Street from interior designer and former talk show host Nate Berkus. Mr. Berkus was a frequent guest on The Oprah Winfrey Show until he got his own syndicated daytime talk show spin-off. It was canceled in 2012 after two seasons, but Mr. Berkus's windfall from his apartment sale is a worthy consolation prize—he bought the co-op for $3.35 million in 2011, and just sold it to Mr. Gilkes and Ms. Nonoo for $4.95 million. (And don't shed a tear for Mr. Berkus's TV career—he has a primetime home renovation competition show on NBC called American Dream Builders premiering this fall.)
The apartment—which was (un)listed by Emily Beare at CORE—contains a hefty 3,000 square feet of space spread out over two floors in a walk-up townhouse. The upper level has three skylit bedrooms, and the lower level boasts separate dining and living rooms, kitchen and den, plus two small home offices to boot. Oh yeah, did we mention the 1,000 square feet of outdoor private deck space?
Perfect for hosting top-of-the-line B-list British royals and ambassadors from dictatorial Arab nations, as Mr. Gilkes and Ms. Nonoo, a 25-year-old Jewish Bahraini fashion designer, are wont to do. Princesses Eugenie and Beatrice of York and James Middleton made appearances at the couple's Venetian wedding (Lana Del Ray provided entertainment), as did Ms. Nonoo's cousin, Houda, who currently serves as Bahrain's ambassador to the United States.
"We had to get permission from the mayor of Venice," said Ms. Nonoo, to use a 16th-century fort, never before allowed for a private event, as the backdrop for the celebration. We hope they don't expect the same leniency from the Landmarks Preservation Commission.