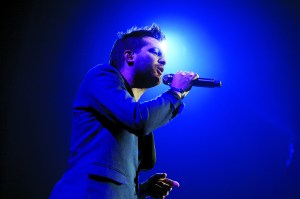 "It's definitely a celebration in this motherfucker!" Mayer Hawthorne shouted when he hit the stage at Bowery Ballroom. This was in July, during a hundred-degree heat wave, and Mr. Hawthorne was up to his usual on-stage antics, like snapping a photo of himself with the crowd. There was, in fact, much to celebrate. Mr. Hawthorne's third album, Where Does this Door Go, had just gone on sale. It had been on NPR's First Listen, and many in the audience could already sing along.
With his first two albums, 2009's breakout, A Strange Arrangement, and 2011's solid sophomore effort, How Do You Do, Mr. Hawthorne built a small but dedicated fan base. Among those fans are some big names, like Bootsy Collins, Snoop Lion, who sang on How Do You Do when he was still Snoop Dogg, Bruno Mars, whom Mr. Hawthorne will join on the European leg of Mr. Mars's "Moonshine Jungle" tour in October, and Pharrell Williams, who is one of the main producers on Where Does This Door Go. A Hawthorne song, in collaboration with deejay Sebastian, is the soundtrack for the latest Victoria's Secret commercial.
All this success has been a bit of a surprise for a performer with an unusual trajectory:  Mr. Hawthorne set out to be a rapper but changed direction when the songs he made to sample for hip-hop tracks came out better than he expected. With this latest album, however, he feels he has finally found his most authentic sound. "This is the most Mayer Hawthorne album ever," he said in an interview with The Observer earlier this month.
Mr. Hawthorne, who turned 34 in February, was born Andrew Mayer Cohen—his stage name is a mash-up of his middle name and the street he grew up on in Ann Arbor, Mich. Detroit is very much in his blood, musically speaking: A Strange -Arrangement and How Do You Do rely heavily on influences from Motown.
Even in a post-Amy Winehouse world, critics wondered if the finger-snapping Motown sound wasn't something of a shtick. Mr. Hawthorne's sound has been called "indie-soul" and, more problematically, "retro," but he rejects genre labels for what he's trying to do. (On a practical level, his indie appeal derives from the fact that many of his deejay sets live on SoundCloud, where he routinely releases remixes.) His musical borrowings can get him into tricky waters, as it's sometimes hard for audiences to tell where the tribute ends and a novelty act begins. But he shrugs that off, too. "I think anyone who really listens to my music can tell it's not an act," he said. "I take the music extremely seriously, but I don't take myself so seriously as a person where I can't still have fun with it." Ask him about the influences on his music, and he will tell you there are a lot of different things at work on him when he's in the studio. "I grew up listening to tons of rock 'n' roll, punk rock, electronica and ghetto-tech," he said.
On Where Does This Door Go, he is pushing himself into new territory. "I think those Motown influences will always be with me," he said. "I think, honestly, even if I wanted to, I could never go back and make another Strange Arrangement. It wouldn't even be possible. I'm not that person anymore." He credits Pharrell and Oak, of production duo Pop & Oak, for encouraging him to get out of his comfort zone. Smooth, lush and danceable, the album has drawn comparisons to Hall & Oates and Steely Dan. There are elements of Mr. Hawthorne's hip-hop roots, like the head-bobbing beat and record scratches on "The Only One," and that's before Kendrick Lamar's guest verse, on the laid back party anthem "Crime." The reggae "Allie Jones" is so smooth, it's easy to forget that Allie is in trouble ("Allie Jones / your back's against the wall.") There are nods to J Dilla, and bits of bossa nova. There's so much going on in the songs that Mr. Hawthorne felt compelled to release the album with added commentary, inspired by the liner notes that he loves to devour.
It isn't just Mr. Hawthorne's musical stylings that have undergone a change with the new album. There's been a marked shift in his appearance. Gone are his signature Buddy Holly glasses, in a move that was both practical ("I got Lasik, and it changed my life. I can see when I wake up in the morning!") and aspirational—a facet of moving on from the old Mayer. Gone, too, are the bright suits, bow ties and sneakers—his starched, preppy get-up at the time of the first two albums. His new style is at once more sophisticated and more relaxed: tees and tanks, sometimes under blazers, accented by ascots and scarves.
If his style is more grown-up, his lyrics also have an added emotional dimension. Where Does This Door Go has more danceable tracks than the first two albums, which were more for swaying—and although there are still some of the witty love songs that got listeners' attention in the first place, and more isn't-it-great-to-be-young-and-pretty anthems, they have greater depth. "All the stories are true stories," he told me. "And the characters are real." There's the woman who forces him to be the other man (on "Back Seat Lover"), and there is his father, in "Reach Out Richard." In the song, an emotional one despite its upbeat disco feel, Mr. Hawthorne tries to figure out what would make his father proud after "doing a bunch of dumb shit and finding my way."
"I can't believe that I made it through that one," Mr. Hawthorne marveled, after performing "Reach Out Richard" at Bowery Ballroom. "That was actually maybe the best I ever performed that song, and I kinda can't believe I didn't lose it."
He likes that his shows attract a broad range of people. "Mayer Hawthorne crowds are some of the most diverse," he marveled. "New York, especially. There are just so many different kinds of people all partying in the same room together. And a lot of times it's a lot of people that wouldn't normally be in the same room." Social media is one of his pet peeves, the reality that even the most enthusiastic New York crowds start a show focused more on tweeting, Instagramming and Vining a performance than actually enjoying it. At Bowery Ballroom, he didn't hesitate to plead with his audience. "Let's all be in the same room for for a little bit."