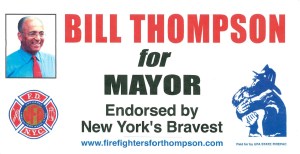 A new generation of super-PAC-like groups have begun to pour money into the city's races, and several candidates are certainly benefiting.
Former Comptroller Bill Thompson has already been boosted by more than $650,000 in spending on his behalf from groups formed by two of the city's major unions, according to new disclosure statements filed with the city's campaign finance board today.
They include nearly $580,000 from "United for the Future," which is run by the city's teachers' union, and nearly $80,000 from "UFA STATE FIREPAC," representing city firefighters.
The teachers' union committee, which is expected to spend upwards of $8 million on the race, has focused its early spending on pricey mass mailings (including this one, which stirred some controversy), as well as a radio ads, palm cards and robo-calling, the filings show.
The firefighters' group, meanwhile, has spent $75,000 on a pro-Thompson billboard and about $2,000 for video production for its website. A spokesman for the Thompson campaign declined to comment on the efforts on his behalf.
But the biggest expenditure so far has come from New York City is Not for Sale, which is running an aggressive "Anybody But Quinn" campaign against City Council Speaker Christine Quinn. The group had spent more than $700,000 on ads and organizing as of the latest filing period, which ended on July 11, and are expected to report an estimated additional $24,000 in spending later this afternoon, a spokeswoman for the group said.
The independent groups, which cannot coordinate their activities with campaigns, are required to file an account of their latest spending by midnight tonight.
Ms. Quinn, meanwhile, has benefited from nearly $85,000 in spending by "HOTEL WORKERS FOR A STRONGER MIDDLE CLASS," which represents the New York Hotel Trades Council. The group has thus far focused on mass mailings touting Ms. Quinn's  "record of results."
Meanwhile, comptroller candidate Scott Stringer has also received an outside boost in his race against former Gov. Eliot Spitzer from a pair of committees, including PROGRESS NYC. The group–a coalition of four major labor unions–reported spending $80,000 on a Spanish-language radio spot touting the Manhattan borough president, the filings show.
Mr. Stringer, whose spokeswoman declined to comment, has condemned all spending outside the campaign finance program.
Politicker will update this story as more filings come in.