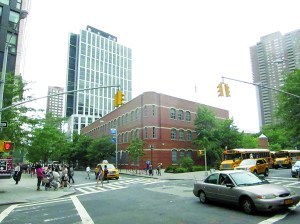 With a looming budget crisis and massive public contracts overdue, it's fair to expect that public school class sizes will continue to inflate even as classroom budgets will continue to be reduced. Still, it seems that an increasing number of parents who can afford private school are sending their kids to public school.
The U.S. Census Bureau reported that private school enrollment has steadily decreased over the past 15 years, down to approximately 10 percent of American students. Here in New York City, private school enrollment decreased by 25,000 to 416,000 from 2007 to 2010 and, in the last two years, has continued down to 403,000 in 2012, according to state Education Department estimates.
"In this city, parents say you have to start your kids in private school so they can go on to the next, and the next, and get into Harvard or Yale, and that is such a bunch of crap. If your kid's dumb, going to a 'good' school isn't going to get them into Harvard or Yale," Sam O'Connor, a restaurateur who originally hails from Ireland, said. His 5-year-old son attends the Spruce Street School in the new Frank Gehry Tower at 8 Spruce Street.
"Besides, between the ages of 5 and 7, school should be a fun thing, not so regimented. It should be kids playing with each other and having a good time," Mr. O'Connor, who lives in the Financial District with his wife and two children, said.
He speaks for a number of parents who believe that private schools are too "serious" for kids these days—and, sometimes, even for parents.
"I could've sent him to private school—we paid $24,000 a year at Trinity Day School for preschool," Tami Kurtz said of her now 9-year-old son, Macy, who attends P.S. 276. "But I want my kid to be a kid. I don't want to spend my weekends and winter break doing homework. I don't think they can be well-balanced individuals if you're constantly pushing them. A lot of private schools are just really intense."
Mr. O'Connor and Ms. Kurtz, are both Lower Manhattanites with several highly esteemed public elementary schools to choose from—P.S. 89, P.S. 150, the Spruce Street School, P.S. 276, and the school that "started it all," P.S. 234. In response to the post-9/11 residential boom, Community Board 1 rallied for the opening of two new public schools, the Spruce Street School and
P.S. 276, which both opened their temporary doors in the Tweed Courthouse in 2009 and have since found permanent homes.
"I know parents who could easily afford private school but moved down here primarily to be near the downtown schools," Ms. Kurtz, a consultant who works in retail and nonprofit management and lives in the Financial District, said. "Many people moved downtown because of P.S. 234. Now, all the downtown schools have a good reputation."
All of the schools, in fact, smack of basic private school trimmings: Parents know what kind of kids are (and are not) there and whether the neighborhood is safe, the building is new and the teachers are high-quality.
"They are on the higher end—that's the feeling," Ms. Kurtz confirmed.
Lower Manhattan also has no shortage of community spirit, which parents attribute to the creation of both schools. Sending their kids to public school, the majority says, is also a way to engage with the community, citing private school as more of a "destination" because children commute from all areas of the city.
Tricia Joyce, a photography agent, said she knew from the moment she moved into their Tribeca apartment that she'd want to be able to walk her kids to school one day.
"There was a sense of community I got from my neighbors, even before I had kids," she said. "When we looked at what we had to invest in preschool, we were relieved there was a great public school in the neighborhood."
Community values aside, some parents just have very strong opinions about private schools. Mr. O'Connor, for example, is concerned with the lack of diversity in private schools.
"In public school, they'll grow up with friends who will be a better mix of people. Not all private school kids are stuck up, but it seems to happen that way a lot of the time, Mr. O'Connor said.
Interestingly enough, Ms. Joyce has found that certain public schools embrace diversity to an extent that private schools often cannot match. One of her daughters had received occupational therapy before entering kindergarten and was fortunately able to continue receiving services as she moved into P.S. 234, which offers comprehensive OT services. A couple years later it was discovered that she had dyslexia, and those services were also available from teachers with degrees for such instruction, all within the classroom setting.
"A lot of private schools don't have that support system—I'm happy to have resources within the school," she said.
Peter Shankman, new father, three-time author and founder of PR firms HARO, the Geek Factory and Shankman|Honig, already has plans to send little Jessa to public school. He believes that there is a "coddling mentality" in private schools and an unattractive abundance of "entitled" attitudes.
"Kids at [private] schools are like, 'Don't you know who my father is?' which really pisses me off. Being in public school teaches you self-sufficiency, that you can be as special as you want to be, but you're not granted the right to be special. You have to work at it. Opportunities aren't just going to be handed to you," Mr. Shankman, who also has a seat on the NASA Civilian Advisory Council, said.
"I went to LaGuardia with Marlon Wayans, Jennifer Aniston, Omar Epps, and they were busting their asses just as hard as I was," he said. "Nobody's checking up on you—if you're not doing what you're supposed to, it's just going to come back to bite you in the ass."
He went on to praise the quality of public school teachers, saying that if you're teaching in an NYC public school, you're there because you really want to teach.
"The best teachers in the world teach in public school," he said.
Battery Park resident Dennis Gault has a daughter, Cecilia, 14, who attends LaGuardia High School. "With the money we saved on tuition, we were able to send her to classes at the Church Street Music School, to do Kumon, and other extracurriculars," he said.
He too believes that the best teachers in the world teach in NYC public schools, concluding that they're "not doing it for the money, obviously."
Unfortunately, some parents may have to resort to the private option. Because of the residential boom, downtown public schools, just like schools everywhere else in the city, are at risk for overcrowding—even with the new additions in place. Currently, many downtown parents feel anxiety about the lack of school seats from K-12 and even slimmer pickins for good middle schools and high schools.
In a presentation made to the Department of Education and School Chancellor Dennis Walcott back in April, Community Board 1 said that Lower Manhattan's K-8 student population is growing faster than any other in the city.
"Fifth graders who are about to graduate from P.S. 234 are either getting their last choice or no choice," Ms. Joyce, referring to the 50 pupil waiting list, said. There are similar waits for P.S. 276 and P.S. 89. "The Department Of Education needs to acknowledge that planning methods they used in the post-9/11 building boom didn't serve families of Lower Manhattan so well."
Ms. Joyce said that she and her husband may have to start looking at private schools. In the meantime, she and other parents would like to steer clear of any sort of monetary-based merit system.
Indeed, Mr. Gault says when some parents donate $100,000 it changes the dynamic of the classroom.
"I'm concerned that a school's ability to fundraise has suddenly become part of what makes a school better in some people's eyes. I don't believe in that," she said. "The point of public school is to have an equitable system."
Mr. Shankman believes that he is living proof that greatness can be achieved regardless of where you toss your cap on graduation day.
"I'm an NYC kid who went to public school all my life, and I turned out pretty rockin'. My daughter will do the same, and she don't need no private school to do it."
Correction: An earlier version of this story incorrectly referred to the services Ms. Joyce required and received from P.S. 234.