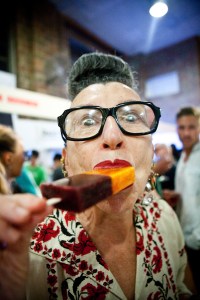 Downtown may need another crafty, artisanal pop-up market like Williamsburg needs another glassy condo, but if there is one person who can still get Soho excited about bacon mayonnaise, it's Paper magazine co-publisher and editor Kim Hastreiter. Ms. Hastreiter, whom The New York Times called the "coolest woman in New York," founded the downtown magazine back in 1984 and has continued to act as a powerful connector even as the magazine's influence has waned and "downtown" cool hopped the L train to Brooklyn.
Ms. Hastreiter, sporting red-framed glasses and a felt pin in the shape of a sunny-side-up egg, hugged well-wishers at Thursday's opening party for her Super (Duper) Market. Festooned with signature bull's-eyes from Target and American Express logos (both companies are sponsors) the flea has moved from last year's home at the Chelsea Market to the St. Patrick Youth Center on Mulberry Street.
All the roomier for David Byrne to buy a dozen crocheted oysters, complete with a crocheted lemon wedge and crocheted cocktail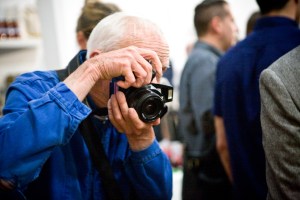 sauce. "I'm going to display them in my kitchen," the red-jumpsuited former Talking Head told us. Anna Sui posed for pictures, and celebrity photographer (and personality in her own right) Henny Garfunkel tried La Newyorkina's Mexican mango-chile popsicles.
"This is just what I needed," the Transom overheard Times fashion photographer Bill Cunningham telling Ms. Hastreiter. "I've had enough uptown lately."
We asked Mr. Cunningham, who is known for never accepting food or drink (not even water) when on assignment, if he was planning to try the goods. "I never touch anything, no matter where I go," he told us, as we struggled to balance our split of rosé champagne with a mini horchata ice cream cone. "Your eyes, that's sufficient."
Ms. Hastreiter, a veteran of the downtown where Jean-Michel Basquiat sold paintings on the sidewalk for $200 and models lived on cocaine instead of juice cleanses, extended her search for vendors beyond the city limits. Among the far thest-flung may have been Daina Slekys, who brought her sunny L.A. disposition along with samples of kombucha.
And of course, Detroit had a booth. "When was the last time you were in Detroit?" asked Sarah Lapinksi, a goodwill ambassador from that city, as she handed us a sample of a rather Brooklynish fermented beet beverage. Ms. Lapinski and her friend also publish a zine that had struck Ms. Hastreiter's fancy.
Bow-tie-clad deejay duo AndrewAndrew was on hand with a performance-art piece that involved mixing nuts in shakers to create elaborate snack "cocktails" flavored with spices sourced from within three blocks of the proprietors' apartment.
"We are trying to raise the bar snack," they said as they added curry seasoning to a cocktail shaker.
When did you come up with the idea? We asked.
"About 24 hours ago," an Andrew replied.
We rounded a corner and were considering tossing the concoction when a worried-looking Andrew ran up to us to inquire whether he had added too much curry.
We tried some salt-and-pepper-flavored ice cream from San Francisco and a blintze from a gourmet gefilte fishery. Cynthia Rowley's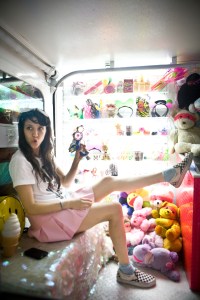 Curious Candy handed out cotton candy covered in edible glitter.
Leyla Safai, of the band HeartsRevolution, manned a Swarovski-encrusted ice cream truck outside the market. A Harvard undergraduate was stationed inside the truck to record her for a thesis—a documentary about Ms. Safai.
"It's a glowing ball of hope and childhood dreams," said Ms. Safai, who had to exit the vehicle through the window, having bedazzled the door shut. For an evening, Brooklyn was very far away.