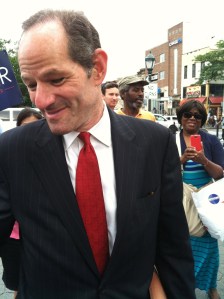 Eliot Spitzer was chomping at the bit for policy questions in Crown Heights this evening.
Arriving in a slight drizzle in the fading sun, Mr. Spitzer took photos–as per usual during his campaign stops–bent to the cobbled ground to speak with toddlers and bought a $2 pound of okra. But he looked the most comfortable and excited as he addressed policy-related questions from the public and press alike.
When asked by a reporter what he thought of Mayor Michael Bloomberg's high-profile economic speech earlier this week, Mr. Spitzer had a calculated response outlining the fundamental differences between New York City and Detroit.
"I think the first statement that has to be made is New York is not Detroit. Detroit was a unique fiscal failure in a municipality that saw its entire industrial base flee to both the suburbs, other parts of the country and other parts of the world," Mr. Spitzer said, launching into an extended analysis.
As he caught his breath, Mr. Spitzer was pummeled with two back-to-back off topic questions: one pertaining to the recent arrest of former Manhattan madam Kristin Davis–who claims to have supplied prostitutes to Mr. Spitzer–and the other on the extremely questionable suggestion from a New York Post reader today that Mr. Spitzer was secretly dating former congressman Anthony Weiner's wife, Huma Abedin. Asked if he had comment on either, Mr. Spitzer insisted he had "none whatsoever."
"We want to talk about pensions," Mr. Spitzer quipped afterwards. "Come on guys, pensions! Pensions sell newspapers."
He did get knocked off his policy wagon, however, when Politicker asked Mr. Spitzer about last night's star-studded fundraiser for his opponent in the city comptroller race, Manhattan Borough President Scott Stringer.
"I'm out here with celebrities right now," Mr. Spitzer said, taking a shot at his rival in the race. "In the community of the city of New York. Those are the celebrities I care to spend time with. The celebrities I represented. In my years as attorney general I stood up for those celebrities to Wall Street."
As for Mr. Spitzer's celebrities–the residents of Crown Heights that day–they generally received him warmly while simultaneously gawking at Mr. Spitzer, who is a well-known commodity thanks to his aggressive record in the attorney general's office and the infamous prostitution scandal that ended his governorship.
"When is sexy 'Client 99' coming?" a woman asked upon seeing campaign signage before the former governor arrived. (She identified herself as a tepid Spitzer supporter.)