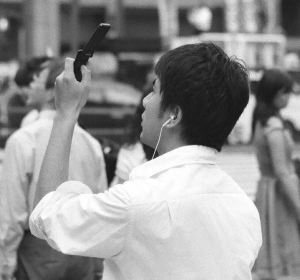 People in Japan are so well-connected to their cell phones that they're either walking into inanimate objects or toppling off of transit platforms. Perhaps, even both at the same time. The Japanese government is so concerned for clumsy technophiles' safety that it's launching a public campaign to remind them they should perhaps be aware of their surroundings so they don't injure themselves.
In conjunction with mobile network NTT Docomo, the government installed a twisted sign in a Tokyo station reading "Walking while using a smartphone is dangerous…But those people probably didn't see this announcement." The phenomenon has even earned the nickname of "Aruki Sumaho," which loosely translates to smartphone walking. In 2011, 18 people fell off transit platforms and 60 percent admitted they've walked into someone while using a smartphone.
According to one report, some Japanese citizens are so busy with work-related tasks on their phones that they have no choice but to walk-and-surf. One man complained that if he doesn't keep his eyes glued to his phone, he'll never finish his work–or perhaps get lost. "Concentrating on the touchscreen map, you lose a sense of what's around you," he said.
Frankly, we're just jealous that the Japanese even have cell phone coverage at their transit stops.