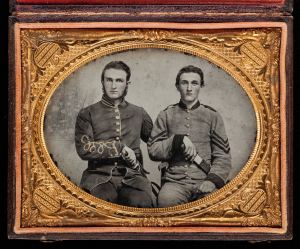 The Civil War happened to coincide with the early days of photography—its epic story can be told in photographs. In the first room of this fascinating exhibition, curated by Met photography curator Jeff L. Rosenheim, an 1860 salted-paper print of a young Abraham Lincoln sets the stage. Lincoln's face reappears on a pin for his 1860 presidential campaign, framed by faded red, white and blue silk on a tiny tintype set in brass; its scale and subject presage nothing so much as the ubiquitous modern penny.
"Carte de visite" is the name for the tiny, card-backed albumen silver prints of the era—they sound frivolous, like something you'd use to announce your presence at a tea party, but here they serve a serious purpose. A solemn photograph of a woman in a heavy black dress shows Sojourner Truth, a former slave, who said she "used to be sold for other people's benefit, but now she sold herself for her own." Calling photographic portraits her "shadows," she sold them to support feminist and abolitionist causes. Gordon, a Runaway Mississippi Slave, or "The Scourged Back," which ran in Harper's Weekly, was one of the most famous abolitionist images. It shows a man's back deeply scarred from beating. Slave Pen, Alexandria, Virginia, 1863, was taken at a site just across from the nation's capital where you could buy a 3-year-old child for $50 or a man or woman for $1,000. The place, which held hundreds of captives, was later transformed into a pen for captured Confederate soldiers. The abolition of slavery, as President Lincoln put it, would "elevate the condition of all men," and such images, widely disseminated, helped make the president's case.
The Civil War started in earnest after the first battle of Bull Run, and soon, in this exhibition, come images of private people enlisting. Workers at the new photographic studios hand-painted rosy cheeks onto black-and-white images of the faces of young men in uniform. Silver lockets and leather-and-gilt cases holding photos of loved ones were kept as talismans both by soldiers leaving home and by the women they left behind. One in five of those men died.
War photographers followed the troops. Battles were impossible to register using the period's slow photographic process, but images of camp life and grim scenes of the battlefields after the fighting is over abound. A Harvest of Death, Gettysburg, July 1863 is one—bloated corpses rot under the summer sun. Limbs dangle and skulls gleam white in a photo that shows soldiers collecting bodies that are shoveled into mass-graves. People called the dazed expression on men's faces the look of having "seen the elephant."
But as much as this exhibition tells the story of the war, it also tells the story of the war's photographers. Matthew Brady, a businessman with a popular Manhattan photography studio (his equipment is on view here—a posing stick and a big wooden box camera), bought other photographers' wet-plate collodion-on-glass negatives and printed and sold them in New York. A private press corps grew, including Timothy O'Sullivan, Alexander Gardner, Andrew Joseph Russell and George Barnard. They shot lush landscape scenes on fragile glass plates, the largest of which were 12 by 15 inches. They show incredible detail: a muddy boot on a dead man's leg or the bravado in a 12-year-old soldier's stance.
It is remarkable how wild America looks in these images. It's all woods and the occasional dirt road. The wartime shelters, as in an image of Wood-Chopper's Huts, are rough teepees made of logs and mud. Everything, including a pontoon used to cross the Potomac, looks rough-hewn and newly rigged.
And oddities abound. There is an entire room of mid-19th century soldiers dressed in North African style, including baggy harem pants, turbans and fez caps: they called themselves Zoave volunteers. Stereoscopic image-viewers present camp life in three dimensions. We also see medical photographs of soldier-patients. In some, red paint indicates the trajectory a bullet took, slicing through flesh.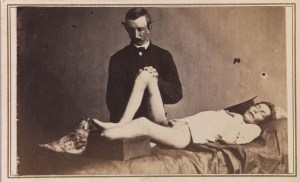 Recovery began, and photographic documentation continued, now showing starved men released from Camp Sumter, disabled soldiers, former slave children learning how to read. When the war's aftermath was not dramatic enough on its own—and Southern cities reduced to rubble were plenty dramatic—photographers would caption their landscape photos with haunting titles conveying what happened on their sites. These pictures walk the line between photojournalism and art.
Lincoln's assassination on April 9, 1865, ends the Met's exhibition. The same tintype face from his campaign button is framed here in a mourning corsage of black silk. As a coda, it is worth visiting the five enormous Frederic Edwin Church paintings on view in the concurrent exhibition "The Civil War and American Art," in the museum's Lehman wing. Featuring soaring aurora borealises, rainbows over tropical forests, Yosemite mountainscapes, sunsets and glaciers, Church's paintings convey the grandeur of the American landscape. If the Civil War photographs are about a loss of innocence in this country, Church's paintings recreate the sense of America as a kind of Eden. That he made them during the war seems incongruous—or defiant. The rest of the paintings—viewed after the photographs, with their strange, violent specificity—look like sentimental treacle. (Through Sept. 2, 2013)