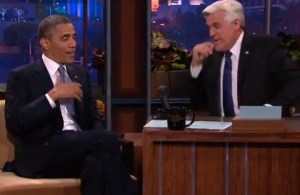 Last night, Barack Obama was the guest on what appears to be a still-Jay Leno-hosted Tonight Show. Really? Who knew. Huh. Thought Jimmy Fallon had already taken over with all the fuss being made about him being named the successor to sit Johnny Carson's old studio, but guess that's not till February of next year. (Yes, we know Tonight with Leno still gets the best ratings.)
It was an odd show, mainly because it was such a serious show. Also, it was not a very funny show (despite it being President Obama's birthday!). It seemed more like an episode of Larry King Live or Meet the Press, but with less interruption from the host. Really, P.O.T.U.S. just spoke about anything that was on his agenda–a lot of Snowden, a lot of Russia, a lot of Obamacare– with just occasional prompting from the all-to-eager Leno, whose ratings last night were the highest they've been since the last time Obama was on. Check out the segments, and analysis, below.

It was actually a perfect symbiotic relationship: Leno's viewers tend to be more conservative than the other late night hosts, giving Obama a platform to speak directly to the men and women who would be least likely to tune in to his press conferences. And we could be wrong, but this could be Leno making a bid for his next talk show as a more serious, news-oriented host. Hey, is CNN still hiring?
Part 1: Obama's birthday
[youtube=http://www.youtube.com/watch?v=wCrE8e-9wto&w=560&h=315]
Part 2: Terrorism and Edward Snowden
[youtube=http://www.youtube.com/watch?v=Yc6AR3daQNA&w=560&h=315]
Part 3: More Snowden, Russia, and Barack Obama's relationship with Vladmir Putin.
[youtube=http://www.youtube.com/watch?v=0L6O4BK6jCw&w=560&h=315]
Part 4: More Russia, and Olympics
[youtube=http://www.youtube.com/watch?v=4DGk-NRd0F4&w=560&h=315]
Part 5: A hypothetical modern day Peace Corps, President Obama's "bromance" with John McCain, Obamacare, eating food with Hillary Clinton
[youtube=http://www.youtube.com/watch?v=ZMCfxWN_X3Q&w=560&h=315]
Part 6: Trayvon Martin, the president's love of brocoli, gift-exchange
[youtube=http://www.youtube.com/watch?v=9DrIQiPYwy4&w=560&h=315]