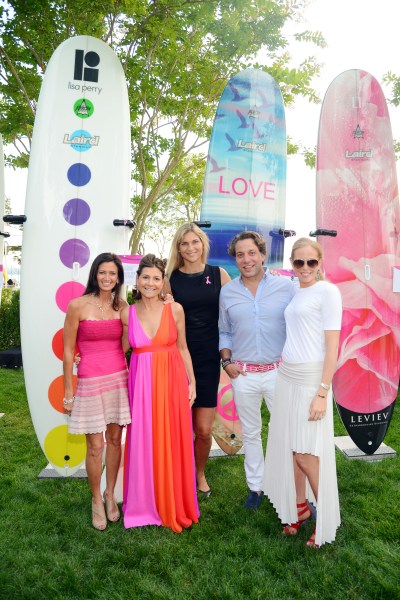 On Saturday, even the weather seemed to take The Breast Cancer Research Foundation's invitation to "think pink" seriously. The sunset, served with cocktails at the Hamptons Paddle and Party for Pink, was variously described as "rose gold," "salmon pink," and "very pretty."  We guess if one is invited to Richard and Lisa Perry's Hamptons home, even Mother Nature follows suit.
Trendsetters also following the colorful direction included Susan Harrison, Elena Castaneda, Randi Shatz and even Lisa Perry herself, all cloaked in various shades of blushing gowns. Martha Stewart, however, opted to wear a blue tunic and white slacks. But then, any woman who makes her own honey lavender ice cream need take orders from no one.
The fundraiser began that morning when about 150 partygoers "raced" on paddle boards in Sag Harbor. Breast cancer survivor and event co-chair Maria Baum explained that she found great spiritual solace in paddle boarding during her own diagnosis, treatment and recovery. We're not sure that everyone found quite the same amount of solace — more than one person described their experience with the phrase, "I was really hung over." It may have helped that legendary surfer – and founder of stand-up paddle boarding — Laird Hamilton was there to balance the boards. "I think everyone indirectly or directly is affected by breast cancer," he said. "Taking part in today's race means a lot to so many people. It was an incredible event, and everyone had a great time" Mr. Laird, surprisingly, didn't win the paddle race, but then, as he noted, he was mostly there to lend support. (He didn't really need another trophy, either.)
Lars Svanberg took first place overall, after which the plucky paddle boarders retired to clusters of white lounge chairs, artfully arranged over the Perry's lawn, extolling their paddle exploits and enjoying the coral coloring of the sky. There were also celebrity-decorated paddle boards to admire and if you were lucky enough, win. Artist Lisa Pevaroff-Cohn's proclaimed "Love" across the front, Aerin Lauder's featured a cream, gray and bright yellow geometric design, and Cynthia Rowley's colorful abstract was bordered in pale blue. Ms. Stewart's board was taupe while artist Tomek Sadurski, who came in all the way from Paris for the event, used a 1980s vintage board painted in a tiger striped pattern. Happy to be in attendance, he admitted, "No one wants to be in Paris in August. If I wasn't here I'd be in Berlin."
But if paddle boards weren't your thing, there were other items to vie for. In keeping with the pink credo, event sponsor LEVIEV offered rose gold bracelets. There were also a number of the "priceless" experiences one always expects to find at these events, like the well known chef who will cook a meal in your home or the chance "meet and greet" with someone that is fun to read about but who would likely be absolutely terrifying in real life (sometimes Anna Wintour, but in this case Oscar de La Renta). There was also a Credit Suisse internship going for $2,500 – though maybe that person should have just talked to Andrew Farkas or any of the other mega-moguls in attendance.  The event is reported to have raised over $1.2 million – sunset not included — with Goldman Sachs as the event's biggest donor.
If there was any complaint about the event – other than difficulties with the microphone — it seemed to be that the Moet & Chandon wasn't pink. "It really feels like a missed opportunity," said one guest, though they conceded that the strawberry and chocolate macaroons made up for it. Another noted that Ms. Perry had designed a "pink panther" dress that someone could have worn (though Ms.Baum looked lovely in Herve Leger).
Bubbles aside, the event was more than a taste of la vie en rose.