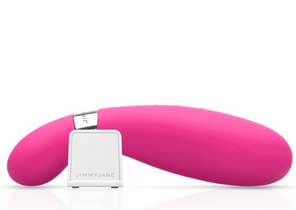 Apparently it's not all O-faces and happy endings for sex toy companies trying to receive funding from venture capitalists. No matter how established or profitable, several (ahem) novelty toy companies recently told Forbes that they're denied funding because VCs don't want to be associated with a pocket vibrator.
Take, for example, Ethan Imboden. He's the cofounder of adult toy startup Jimmyjane and said he was about to seal the deal until a contractor, who also made guns, found out what the funding was for — a vibrator. The company backed out shortly after the meeting after citing "moral reasons."
"So, this is a company that had absolutely no issues, from a morality standpoint, manufacturing handguns but absolutely refused to work with a company involved in sexual health and well-being," he said.
Several other novelty companies have experienced the buttoned-up prudishness of old school VCs firms. The industry generally lumps together sex and porn, of investors already have a negative perception.. To circumvent that, adult-themed companies list themselves as "consumer goods." Of the 38 companies listed on Angel List, zero have any investors.
Perhaps surprisingly, religion also plays a big factor in adult companies getting funding. Ti Chan, the cofounder of sex toy company Crave, had her pitch rejected because the investors had to answer to partners from Catholic institutions. She faced blockades on Kickstarter too, which rejected the vibrator, probably because it's not "artistic." "Religion always gets in the way of culture," she complained.
Until perceptions are changed, there's always sites like Fan Fund XXX.
Correction: An earlier version of this story misstated that the company that backed out of Jimmyjane's funding was a VC firm instead of a contractor. The story has been updated to reflect the error.