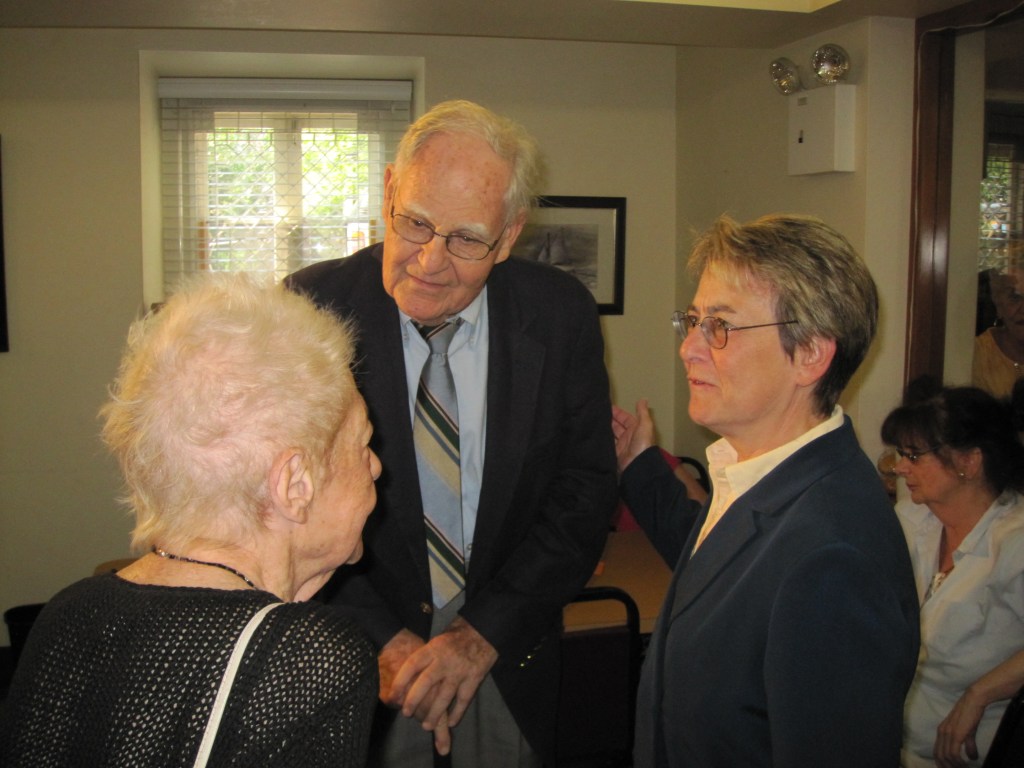 City Council Speaker Christine Quinn's dad, sidelined for months by medical problems, returned to the campaign trail this morning just in time for his 87th birthday.
The charming Larry Quinn, often referred to as Ms. Quinn's "not-so-secret weapon," stopped by a senior center near Washington Square Park to stump for his daughter as the mayoral campaign enters its final, frenzied stretch.
"Well, you know, I'd like to be more mobile, but at least I'm on my feet and I don't have an escort any longer–a paid escort!" joked Mr. Quinn as he left the center after a short visit, accompanied by Ms. Quinn's father-in-law, Anthony Catullo. While Mr. Quinn walked a little slower than usual, with the assistance of a cane, his humor appeared perfectly in tact.
"I was delayed by a variety of technical factors," he joked. "It was a mess … I've got a wooden leg of sorts," he said, using his cane to tap a leg brace. He also bemoaned his new "ugly" Velcro shoes "with the straps, for the children."
"We all know how we hate ugly shoes!" he said, sounding dismayed.
Mr. Quinn has been out of commission since the beginning of the summer–first by an artificial knee replacement and then a fractured leg discovered after a fall. The loss was especially hard for Ms. Quinn, whose father has long served as a sounding board and chief cheerleader, and had been expected to take a major role in her campaign.
Still, Ms. Quinn did have some back-up in Mr. Catullo, her wife's father, who had subbed in for Mr. Quinn at some events.
"It was like, 'Larry's down, we gotta step up!'" joked Ms. Quinn in a recent interview, imitating her father-in-law's growly voice.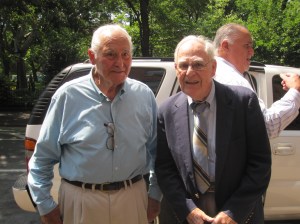 The dads, who both lost their young wives to cancer and never remarried, appear to get on swimmingly, with a routine reminiscent of a 1940s comedy sketch. "The only thing they disagree on is my dad's a marine and Chris's dad is Navy, so that's the only thing: Which is better," said Ms. Quinn's wife, Kim Catullo in another Politicker interview. ("But Marines' definitely win," she added, without missing  beat.)
So which daughter gives the better interview?
"Well Christine is more of a professional. She's been at it longer," Mr. Quinn offered when asked.
"Kim is a little shy," her dad admitted.
As for the better dad on the campaign trail?
"Mr. Quinn: he's the real New Yorker," offered Mr. Catullo.
"Only on the basis of longevity," agreed Mr. Quinn. "A winner by longevity!"
Ms. Catullo said her dad was especially fond of Ms. Quinn and was glad to step in while Mr. Quinn was recovering. "He, despite his private nature, wants to be there for her, particularly because her dad, who was so looking forward to this, has been sidelined … The notion of an 87-year-old hopping into New York City  is not easy, but he's really happy to do it."
For his part, Mr. Catullo said he'd been having fun.
"It was very nice to meet the people and try to convey to them why we need Chris Quinn," he told Politicker while touring the Greenwich House Center on the Square. "She's a very good person. Very honest. She has the experience from City Hall. What else can you say?"
Still, the pair had their work cut out for them at the center, where several residents kindly informed Mr. Quinn they would not be voting for his daughter.
Joan Williamson, a senior at the center, told Mr. Quinn she was angry at his daughter for supporting the controversial expansion of New York University, which she argued would destroy crucial green space.
"What's done is done," Mr. Quinn tried to tell the woman, unsuccessful in his attempt to change her mind.
Another man outside the center sheepishly apologized after being introduced to Mr. Quinn: "I don't care for Christine, I'm sorry."
"Well, that's alright," Mr. Quinn responded. "As long as you brought lunch."
While less publicized than her rivals, Ms. Quinn's campaign has, in many ways, been a family affair, with various members of the Quinn-Catullo clan pitching in. In addition to the dads, Ms. Catullo's late mother's brother "Uncle Lou" has been touring senior centers with her dad, "Tony C," while her sister has  spending time working at the office. Various nieces, nephews and grand-nieces and grand-nephews have also been helping out, making calls from as far away as Texas.
"Everybody's been helping," said Ms. Quinn.