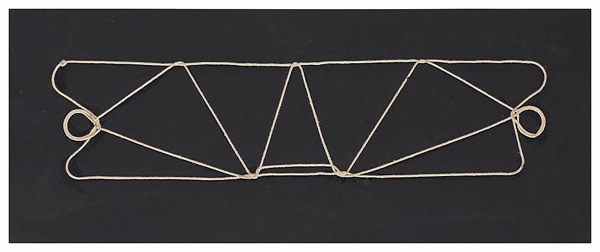 This delirious romp through choice selections from America's long tradition of vernacular, rough-and-ready abstraction was curated by Terry Winters, one of its chief contemporary exponents, and begins, appropriately enough, with a little hoedown, a film by Nancy Dols of the fiddle player Tommy Jarrell (1901–85) as he unleashes a whirling torrent of notes on his violin. She zooms in on a light on his bowing hand, which leaves a swirling trail of its path on the screen as he plays.
This ephemeral, hand-fashioned abstraction is echoed in six pieces from the 1970s by the ethnomusicologist Harry Smith (1923–91), each made with a stretch of white string looped into simple but delightfully unusual geometric forms by. His string figures harken back to 1964 lithographs by Anni Albers (1899–1994), obsessive, veinlike networks of white lines that wiggle  across smoky black expanses, and even find a parallel in the aerial photos of automobile test tracks documented by a group called the Center for Land Use Interpretation. This style of weirdly flowing mark even finds its way into figuration, in the slightly shaky lines that make up drawings of hobbits that hang awkwardly on a white linen support by Richard Aldrich.
Mr. Winters masterfully makes the case that abstraction is as naturally occurring throughout culture (folk or otherwise) as representation, as pervasive as the air we breathe. And his show, which takes its title from lines in the traditional ballad "Days of '49" ("I wander from town to town/just like a roving sign"), shows it popping up in all sorts of interesting places and forms. It's so clever, so elegant and tight that rich connections among the artworks burst out in every direction.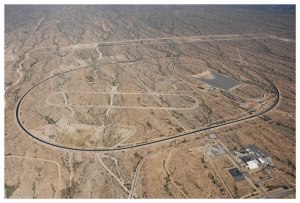 Thread pops up again in John Cohen's black-and-white photos from the 1950s of Peru's Q'ero people weaving complicated patterns with yarn. And then there are quilts, three of them, by Rosie Lee Tompkins (1936–2006), who viewed her textile making as a way of communing with God. They are gloriously irregular, pulsing grids made from pastiches of textiles—of greens, purples and, in the case of her 1987 beauty Three Sixes, yellows, purples and oranges.
There's more music at the back of the space thanks to a video of a player piano briskly plinking and plunking through a scroll written by Conlon Nancarrow (1912–97), punched with cascades of little marks. Not far away are vitrines filled with a set of papers by artist and poet Bern Porter (1911–2004) that contain slices of advertising phrases, in which language is rendered abstract, though I won't ruin the joke here.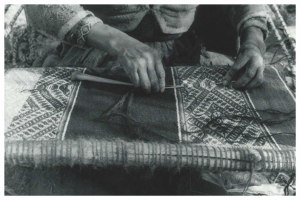 Rachel Harrison's characteristically wild recent sculptures—a satellite dish crowns a black polystyrene rock, sewing pins stab a fake apple—fit right in to these festivities. And so the great revelation is how fresh and perfectly at home two late sculptures by Donald Judd (1928–1994) look in this context. Easy to stereotype as coldly industrial, Judd's boxy works evince aesthetic decisions as idiosyncratic, personal and crackling with energy as any of the more obviously handmade pieces here. They're as weirdly, gloriously abstract as everyday life.
(Through Aug. 16, 2013)