Cake, cake, cake. Sorry haters, but Foursquare founder Dennis Crowley is going to have his cake and eat too. He shared a cryptic photo of a half-eaten "Dreaming Princess" cake proclaiming that the days of Foursquare are sweeter than ever.
Perhaps he's right! The company did announce an innovative new feature that automatically sends you texts and rumors are swirling that Microsoft wants to take a chunk of the company. But, if we're believing caption, he's not going to tell us for another three months. Please, someone remind us to check in with that.
Coatney's new gig. In June, director-slash-media evangelist Mark Coatney, the man who made Newsweek somewhat relevant thanks to its plucky Web presence before being recruited to Tumblr, left the blogging site. He called himself a "free agent" on his blog shortly after the Yahoo purchase and now he's off the market.
This week, he announced that Al Jazeera America recruited him to spearhead its digital media unit. Let's see if the traditionally buttoned-up media operation takes to his irreverent style.
Borrowed glamour Have you sufficiently girded your loins for New York Fashion Week? Because it's upon us once again. We've gotten word that Birchbox will be opening a pop-up to the public and Zady is throwing a launch party.
But it seems Tumblr couldn't wait to get started. The Wall Street Journal reports that Monday night, the site cohosted a rooftop party at the Jimmy, at the James Hotel, with Glamour.com. Resident "fashion evangelist" Valentine Uhovski told the paper they wanted to do something "stress-free and relaxing" to prep for the oh-so-stylish slog. Attendees included designer Rebecca Minkoff, plus "at least the top 40 Tumblr bloggers in New York" and "a lot of cool digital folks who work on everything from Calvin Klein to J. Crew." (And is that Tommy Pom?)
Sounds like they've come a long way from the drama of two years ago.
Future shock It seems Fred Wilson has stumbled upon ambitious oligarch Dmitry Itskov's 2045 Initiative, through which he aims to create indestructible robot bodies for us all. On his Tumblr, Mr. Wilson posted the timeline and his reaction (which we can't help but share):
Word.
Second thoughts Google Ventures partner (and onetime Digg boy-king) Kevin Rose hit a milestone of adulthood recently. The man Instagrammed a photo of his apparently not-so-great tattoos being removed. Ah, respectability! Don't worry, though: He's still got the cache to grace the cover of a German magazine called Business Punk. (Presumably it was the raccoon-tossing that scored him that one.)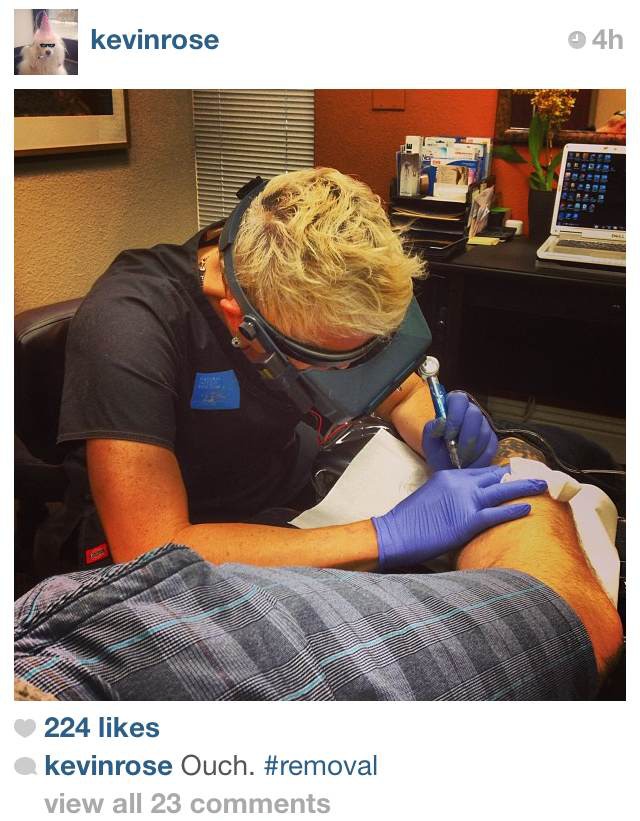 SMDH Meanwhile, in Seattle: