JOBS After much anticipation and even more blather about how Ashton Kutcher prepared for his role as the founder of Apple, Betabeat finally got a peak at Jobs earlier this week, at a special screening at the MoMa.
Outside, we watched Josh Gad (who plays Steve Wozniak) stroll up and start taking photos with waiting fans. He was followed by Matt McGorry, a.k.a Officer Bennett from Orange is the New Black. Apparently Arianna Huffington and Nicky Hilton were also in attendance.
Inside, the towering Mr. Kutcher took the stage with Mr. Gad and director Joshua Michael Stern for a few remarks. Unlike so many movies, with their endless sequels and merch tie-ins, he said, "We don't have a piece of Apple. We're never going to be able to make residuals off Apple products. I don't know that there's a sequel to our movie."
He also talked about filming in the famous Palo Alto garage: "I was waiting to have this epiphany moment, where Steve Jobs as a character just came to me in the garage." He didn't; instead Mr. Kutcher looked around and it was just a garage. Cue Butterfly Effect-level realization that "two guys with an idea, a lot of hard work, and a garage ended up building one of the most powerful companies ever."
Mr. Gad kept his remarks brief: "I really don't have much to add other than the fact that now I'm really angry at my parents for converting my garage into a den."
As for the movie itself, Mr. Kutcher actually does a pretty good impression of Steve Jobs. He's got the walk and the talk down pat, and you can almost forget that Kelso is hiding somewhere in there. But that's all it is: a really good impression, part of a movie that's the cinematic equivalent of one of those illuminated prayer cards. There's plenty of scenes where Jobs acts like a complete dick, but all the scenes of swelling music and technological triumph still treat him like the John the Baptist of personal computing.
Bet Mike Markkula's pleased as punch to be portrayed by Dermot Mulroney, though.
Tough Jobs Speaking of Ashton Kutcher, the tech guy/actor, teched the tech at the New York Stock Exchange on Tuesday. Actually he rang the bell, in an effort to promote his new film JOBS, jOBS and/or Jobs. Post-ring, he had his photo taken while he screamed into a landline because that's what stockbrokers do. His movie comes out on Aug. 16.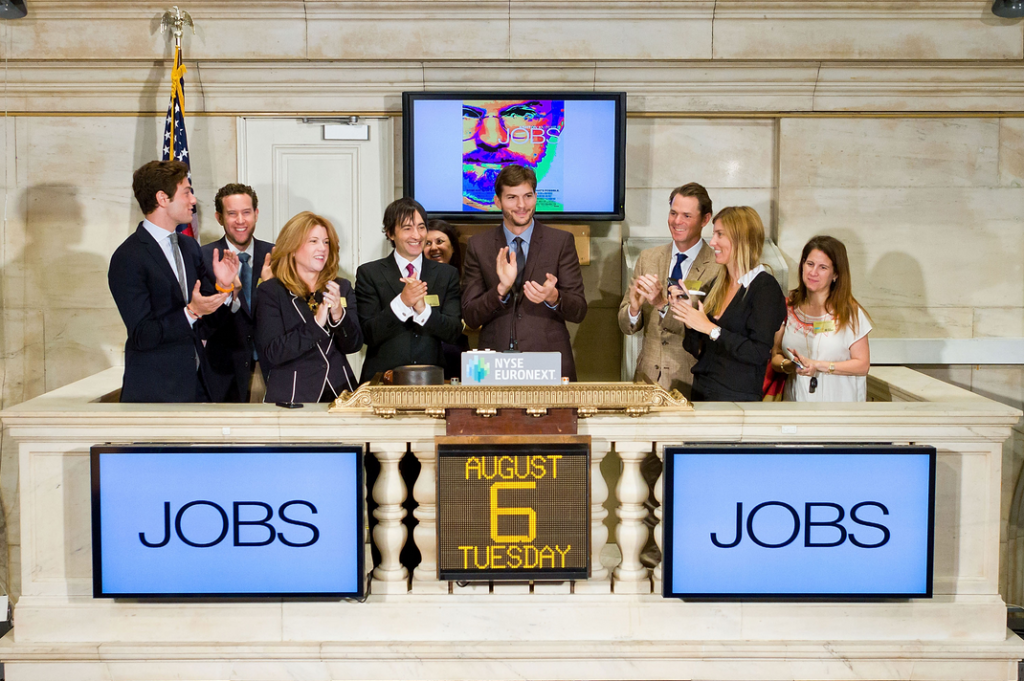 The way we give now D.C.'s Smithsonian Institution houses some of America's most important historical and cultural artifacts, like the top hat Abraham Lincoln was supposedly wearing when he was shot and the original ruby red slippers from The Wizard of Oz. Now, it could also feature "news dj" Andy Carvin's iPhone.
The NPR Senior Strategist Instagrammed a photo of a signed letter saying he agreed to donate the iPhone he used to livetweet events during the Arab Spring to the Smithsonian's permanent collection.
Cool. Cool cool.
Someone donate our iPhone to the Met, 'cuz these sexts are a work of art.
OMG OMGPOP With Zynga's imminent shuttering of all of OMGpop's properties, we were left to wonder whether Charles Forman, the original founder of the NYC-based gaming studio, was feeling a smidge of regret for selling it to the gaming behemoth, despite that cash infusion? And just like that, the answer appeared to us in a tweet.
"did you try buying back @omgpop?" asked Circa editor in chief Anthony De Rosa.
"Yep," Mr. Forman responded.
We reached out to him for more info, but Mr. Forman fended us off…for now.
Nope. Oh no, here's something to screw with your Friday afternoon levels: a Google Glass resting ever so gently on a sticky cronut. As picked up by Gothamist, the picture almost brought us to a boiling point of rage. Who would've figured the nexus of two barely unattainable items encapsulated in a single frame would be this detestable, but here it is!
Facebook fiesta. Some of us have quaint barbecues, but Facebook defines the word "extravaganza" with an over-the-top summer celebration. Pictures surfaced from the party show there was a Ferris wheel, a petting zoo, a jousting activity and multiple blow-up play stations for their employees, who all apparently maintain the disposition of a 4th grader, to frolic in.
It doesn't look like any foxes were harmed. The timing of it neared when Facebook matched its IPO price of $38 so we're eagerly anticipating the party Zuck and Co. will throw if the stock doubles. It's probably going to be in space, isn't it?