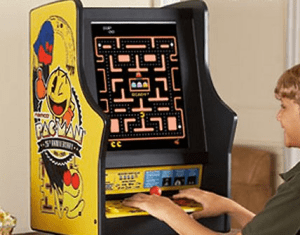 Hey startups, if the space next to your iced coffee kegerator is looking a bit lonely, then we suppose the best solution is to rent a vintage video game machine. That's what the cool kids in San Francisco are doing with a new service called All You Can Arcade. It's best described as Netflix for bulky, dust-collecting arcade machines.
For $75 a month, All You Can Arcade will drop off all those '80s classics that most of the employees in your office weren't around for, like Pac Man, Donkey Kong and Tron. Brothers Seth and Tim Peterson are behind the startup, and they told the Associated Press that their hours spent scouring Craigslist and eBay for the machines to refurbish are "fun."
The Petersons recalled a time when a startup "hooted with excitement" when they delivered a 250 pound machine to a seventh-floor office to creative marketing agency Eleven Inc.. Company president Rob Kabus explained that he can feel like a winner thanks to the machines:
"I feel relatively fearless challenging anybody here no matter what age," Kabus said of his company's new toy. "But when I go home, there's no way I can engage my son on Xbox. It's over in about 15 seconds on a good day."
If all goes well, All You Can Arcade plans to expand to the East Coast next year, in case anyone needs a housewarming gift for Facebook's new offices.