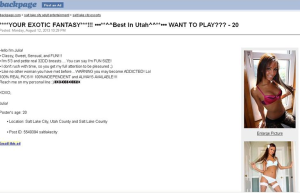 Nancy Caldwell couldn't figure out why her phone wouldn't stop ringing. The 60-year-old elementary school secretary would receive provocative messages asking about the legitimacy of her pictures and racy courtships from traveling businessman.
Confused, she confronted a caller and asked how they obtained her number; as it turns out, it was listed on Backpage, an online classified board most commonly used for adult services. The site has recently come under fire for its ties to child prostitution and human trafficking. 
The calls originated from Salt Lake City where her number was posted on a single ad for a person named "Julia." According to TampaBay.com, the raunchy ad read, "I'm only in town for a short amount of time and I'm looking for someone to spend it with. Like no other woman you have met before… WARNING you may become ADDICTED! Lol."
Another blurb exclaimed "100% REAL PICS!!! 100%INDEPENDENT and ALWAYS AVAILABLE!!!"" A Catfish-like search revealed that "Julia's" photos were of a British soap opera actress and dress models. Despite the ad being updated, the number continued to be incorrectly printed as Ms. Caldwell's.
It wasn't until weeks later that Ms. Caldwell's number was deleted from Backpage. Magically, the 8 in Julia's telephone became a 0. The new number was traced back to a Utah-based escort service that forwards to a Google Voice account.
Ms. Caldwell attempted to get T-Mobile to change her phone number, but they wouldn't do it without a police report. Once the Tampa Bay Times contacted the telco, it finally changed the number. However, Ms. Caldwell said that since her number is on her school's emergency contact list, it's an "inconvenient solution."
Backpage's ToS states that it bans transmitting information that is "false, misleading, harmful, threatening, abusive, invasive of another's privacy," though it's still unclear if Ms. Caldwell's number listing was a simple mistake or a cruel trick. The company called the case "disturbing" and is supposedly proactive in pulling down incorrect ads.
Ms. Caldwell said she still receives calls looking for a "Julia" but thinks it was just a typo. "It's wild," she told the newspaper. "I just got lucky, I guess."